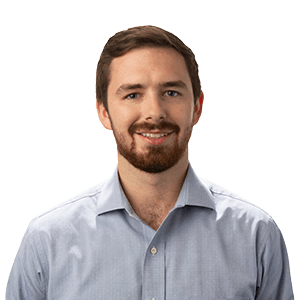 Brian Gilman
Connecticut College
The most valuable piece of advice I've ever received
My college swim coach always preached that, regardless of the outcome of your season, there is no worse feeling than looking back and knowing you could have done more. I carry this advice with me in my professional life as a constant reminder to always put my best foot forward and keep things in perspective when something doesn't work out in my favor.
Favorite part of working at Eagle Hill
I really enjoy the wealth of knowledge shared by my colleagues here Eagle Hill. It's a true testament to the unconventional backgrounds and experiences of everyone who works here.
My personal BHAG (big hairy audacious goal)
To be a recognized business thought leader by age 40.
My hobby
Writing. I enjoy the process of synthesizing thoughts and ideas into compelling narratives.
What energizes me the most
When I'm grappling with a complex issue and the solution begins to come into focus. The moment of breakthrough is a really satisfying feeling and a reason why I pursued a career in consulting.
My theme song
Pretty much any song written by Jeff Tweedy.