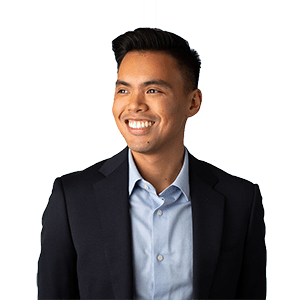 Rey Perrin
University of Arizona
Georgetown University — McDonough
School of Business
My hobby
I've recently become a sneakerhead! So much of its history is ingrained in today's culture and I love how it has become this quasi art form. I have a small collection of Air Jordan 1s that I am slowly growing.
My theme song
"Float On" by Modest Mouse.
Something most people might not know
I am actually Canadian and hold dual citizenship!
The most valuable piece of advice I've ever received
A mentor once told me that people resist change because they focus on what they have to give up, instead of what they have to gain.
What "Breaking away from the expected" means to me
Breaking away from the expected means going above and beyond for our clients by not only delivering what was asked for today, but also setting them up for success tomorrow.
One word my colleagues use to describe me
Inventive.