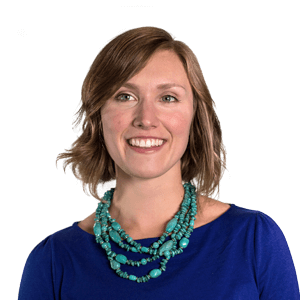 Lauren Anderson
American University
A life change that seemed risky at the time, but turned out positive
When I was 24, I decided to push pause on a traditional career trajectory to complete a year of national service as a Team Leader for the AmeriCorps National Civilian Community Corps (NCCC). It was – hands down – the most challenging year of my life, but also the most rewarding. The experience was a crash course in leadership and gave me the chance to build bonds with people completely unlike me, see places I never would never have seen, and do some pretty extraordinary things.
Where I find inspiration in day-to-day life
I have wonderful friends – from childhood, college, and adulthood – who are all very different than I am. When I see and hear what's happening in the places where they live and the fields they work in, it helps me step outside of my DC bubble and inspires me to think creatively about my own life and work.
My favorite motto
I love this quote by Shakespeare: "Love all, trust a few, do wrong to none."
My favorite author
Jhumpa Lahiri.
What energizes me the most
I am an introvert, so I am most energized by time alone. I love to spend time independently exploring creative pursuits, whether it's cooking something new, planning out my vegetable garden, or learning to sew and knit.
My favorite part of working at Eagle Hill
My favorite part of working at Eagle Hill is being surrounded and supported by intelligent, kind, passionate colleagues every day.