Reach your goals with our woman-owned consultancy
As a woman-owned and woman-led firm, Eagle Hill Consulting is a certified Women's Business Enterprise (WBE). We can help you support your diversity supplier goals—while supporting your people and your business—through our unconventional approach to consulting.
Woman-led and woman-owned
At Eagle Hill, diversity and inclusion is a big part of our core values and culture. It's woven into the fabric of our consultancy and our client work.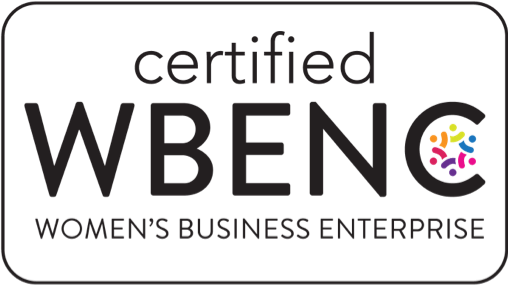 68%
of our employees identify as female
"#1 Best Consulting Firm For Women"
Vault
2023

73%
of our leadership identify as female
Women helping women win
82%
of our female leaders have
been promoted from within.
That's one way our consultancy supports women.
A top consulting firm
We help organizations accomplish their objectives by putting people at the center of everything we do. That's resulted in unprecedented outcomes for our clients—and widespread recognition for our consultancy.

Industry recognition
"Vault Consulting 50"
Vault
2023, 2022, 2021, 2020, 2019, 2018, 2017, 2016
"America's Best Management Consulting Firms"
Forbes
2023, 2022, 2021, 2020, 2019, 2018, 2017, 2016
"Top Tier EX Consulting Practice"
Forrester Research
2020
"Leader in Change Management and Communications Consulting"
ALM Intelligence
2019
"Best in Category Provider for Employee Experience (EX) Consulting"
ALM Intelligence
2017
"Best Consulting Firms for Innovation"
Vault
2021
How we help
Our people-centric offerings are flexible and tailored to your needs to deliver value way beyond what you imagined.
Solutions for today's challenges
Business transformation
Strategic planning
Organizational design & operating models
Leadership transition
Business process improvement
Program & project management
Program evaluation services
Technology enablement
Workforce planning & analytics
Diversity & inclusion
Recruitment & onboarding strategy
Performance management
Career pathways & competency modeling
Succession planning
Organizational culture
Employee health & corporate wellness
Employee training & development
Change management strategy
Organizational change readiness
Portfolio change management
Change management office
Stakeholder engagement
Strategic communications
Workforce training & enablement
Risk management & mitigation
Change analytics
Performance improvement & effectiveness
Case Studies
Unconventional consulting leads to unbelievable workforce results
Clients across industries are innovating to address their unique challenges today while building the foundation for long-term, sustainable success.
Financial services: Impact Statement
The procurement office of a large financial services organization remade its internal and external images and improved service delivery as part of an organizational transformation that focused on improving its culture.
Technology, media and entertainment: Impact Statement
Anticipating continued rapid growth, an organization engaged Eagle Hill to help define an organizational design strategy and workforce planning process that would best support its goal of achieving 50% revenue growth in three years.
Federal government: Impact Statement
We drove a highly successful user adoption strategy for a large federal health agency requiring a time reporting system for its employees to proactively comply with regulatory requirements and provide robust workforce capacity reporting.
Financial services: Impact Statement
We implemented an enterprise-wide digital transformation for a financial services organization to the Salesforce Lightning platform by using agile change management to create better customer and employee experiences.
Healthcare and life sciences: Impact Statement
By optimizing care delivery and operations for a leading regional healthcare provider, we helped reduce case cart supply errors, empower supply chain staff, and enable clinicians to spend more of their time on their patients—and less on case cart accuracy.
State and local government: Interview
Eagle Hill's approach to change management at a transformational scale helped a local government adopt new technology that yielded efficiency benefits.
Living labs
We test, refine, and validate new ideas in our own workplace before bringing them to market.
Let's meet your goals
We'd love to learn more about your procurement process and how we can support your objectives. Send me an email today, I can't wait to chat!