TECHNOLOGY ENABLEMENT
People-powered technology transformation
We are guided by a fundamental belief: that people make or break technology efforts. Too often, organizations are so focused on the technology at hand that they forget about the processes and workflows that need to change, and the people who are needed to make technology successful for the organization. Whether you are selecting a new platform or optimizing an existing system, Eagle Hill's technology enablement services help you maximize the value of technology by aligning people, processes, and culture.
What we do
People-focused technology consulting
Driving a successful technology effort starts and finishes with the needs of users and the business. Eagle Hill's people, process, and performance-focused capabilities ensure technology efforts not only meet users' needs, but enable organizations to achieve its goals and propel the mission forward.
Our team looks beyond the technology itself to the larger people, process, and cultural shifts required to successfully bring technology to life and take root in your organization. We help you:

Discover and align on technology requirements
We take the time to identify and translate the needs of stakeholders and users into technology requirements. Then, we support you in creating alignment across the organization.
Our team specializes in:
Technology assessment and selection
User requirements and design
Stakeholder management
Process and workflow assessment

DESIGN TECHNOLOGY
FOR SUCCESS
We support successful technology implementations by surfacing and translating the needs of end users and deploying integrated change management solutions across your organization.
Our team specializes in:
Employee experience
Customer experience
Change management
Project management
Agile methodology

ENABLE THE
ORGANIZATION
We help you meet your goals by speeding technology adoption, assessing existing workflows, and creating new processes, seamlessly bringing together people, process, and technology.
Our team specializes in:
Process and workflow assessment and design
Technology adoption
Change management
Training design and delivery
Our big-picture approach to technology enablement
We make technology work for your strategy
The power of technology is ultimately in the results it delivers for people and organizations. So, we work with you from the beginning to set clear objectives and key results that align to organizational strategies and desired outcomes.
We double down on delivering value
Our teams are laser-focused on helping you maximize the value of your technology investments. This is why we work closely with teams to optimize processes and workflows, so they aren't putting new tech on top of broken processes.
We put people at the center from the start
By putting users front and center, we ensure that the technology design considers their needs and experiences. We smooth technology adoption with innovative change management practices that instill comfort and confidence.
We move swiftly from needs to action
Throughout every phase, we ask the right questions and listen to truly understand your organization. We also act as a bridge builder—fostering cross-functional collaboration and closing communication gaps between the business and IT.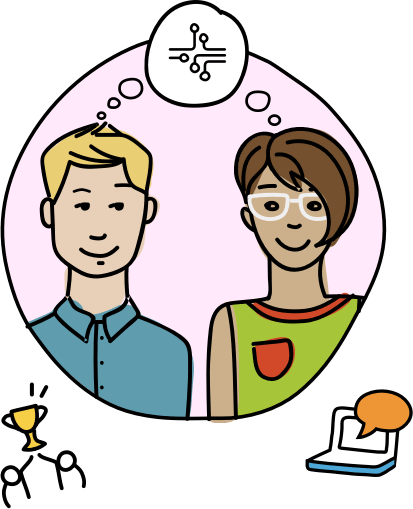 Is legacy technology holding your agency
back from mission success?
By approaching technology modernization through the larger context of people, processes, and culture, we help agencies optimize technology investments—from lowering costs to boosting experiences.
TECHNOLOGY ENABLEMENT Case Studies
Unconventional consulting leads to unbelievable results
Here are a few examples of how we provide impact for our clients. Our years of creative and strategic experience have helped clients across industries reach their potential.
TECHNOLOGY insights
Our latest research & thinking
Keep your finger on the pulse of technology trends impacting your industry with actionable insights and best practices based on our proprietary research.
Blog
By Joseph Macaluso
AI adoption can be scary for employees. Find out how leading with empathy and investing in existing staff can go a long way to easing those fears, improving adoption of new tools, and helping the whole organization thrive.
Article
To improve technology adoption, maximize your technology investment, and improve ROI, take a human centered approach to technology change.
Living lab
Recently, we refreshed our thinking around our technology investments. By automating in-house processes, we found we could reclaim time, increase capacity, save money, and make data-driven decisions faster. Here's our recipe for process automation success.
Article
In the face of economic uncertainty, companies should prioritize efficiency over short-term savings. The result? A stable workforce, boosted productivity, and the ability to attract and retain talent. Learn how with these 5 strategies.
Report
Employee experience is a fundamental component to improve new technology change ROI, and ultimately, business ROI.
Report
Executives are turning to technology to enhance customer propositions and competitiveness. But when companies fail to engage employees in adopting and optimizing the use of the new technology, they're coming up short on ROI.
Blog
By Melissa Jezior
We know that technology advancements can be a game changer in terms of strengthening an organization's capabilities, improving the customer experience, or leapfrogging the competition. So it makes sense that corporate leaders are investing heavily in new technologies such as automation.
Living lab
When COVID-19 hit, we had to greatly accelerate our transition to Microsoft Teams. Read how we employed a change management approach that included mindful technology adoption to create collaborative workspaces for our virtual teams.
Are you struggling to meet today's objectives with yesterday's technologies?