The client's perspective
Federal government departments and agencies spend more than $400 billion per year acquiring goods and services of all types-from technology to travel. The General Services Administration (GSA) Federal Acquisition Service (FAS) is at the forefront of federal purchasing. To continue to provide customers—and the American people—with the best value, FAS leadership determined that the organization needed to fundamentally change its approach to federal government procurements.
Specifically, FAS launched an effort to transition GSA (and eventually the entire federal government) toward a "category management" model of procurement. Category management is an organizing principle that groups common goods and services so that they can be purchased more easily and efficiently. By organizing operations around category management and improving customer service, FAS planned to position itself to save the government money and better meet the changing acquisition needs of federal agencies far into the future. This change, however, represented a transformation down to the roots-affecting approximately 3,000 people in FAS alone. To manage such a large initiative, FAS wanted a well-respected, agile, small business partner with fresh ideas and demonstrated change management expertise. It chose Eagle Hill Consulting.

A new view
Eagle Hill's approach was two-pronged. The first piece was supporting FAS in designing its reorganization so that the workforce segmented into more logical groups. As we began the strategic redesign, Eagle Hill kept in mind that the faster we could help FAS develop a solution, the faster category management could be rolled out across the government to start bringing realizing results. However, any missteps in a program of such far-reaching impact were unacceptable. We knew that the surest route to the desired results would be to fully engage and collaborate with FAS staff, while our experienced consultants worked from the outset as a hybrid team with the FAS project team to build synergy and goodwill toward the coming changes.
To launch quickly and intelligently, Eagle Hill supported the creation of a cross-cutting FAS "tiger team" that represented FAS's existing organizational structure (11 regions and 10 portfolios). This tiger team met to work through all the strengths and shortcomings of the current organization, culminating in a gap analysis which led to a new future state design based on GSA's needed functions. We then supported the FAS Director through more than 40 sessions with regional and portfolio leaders to refine the design and consider the specifics of realigning people to a new, matrixed structure. We used scenario testing throughout and worked with labor unions to communicate the FAS strategic organizational assessment, set expectations, collect feedback, and address issues and concerns along the way. The result of this close collaboration with FAS was detailed organizational charts that mapped all 3,000 employees from the current to the future organizational state, paired with a compelling business case for change.
The second piece of our work was change management. With FAS leadership in support of the organizational design, the team developed a comprehensive implementation plan incorporating key activities, communications, logistics, and training. Our approach emphasized inclusion to make FAS staff feel empowered, not apprehensive. The team maintained regular communications with the leaders of all 21 existing FAS regions and portfolios and provided toolkits to explain the value of category management; the reasons for the change; how it would affect employees; and the support and resources they would receive. The toolkits were accompanied by an employee website that kept the details of the reorganization readily available.
Both strands of our work—the design and the change management—were marked by an unusually strong collaboration with FAS staff. We respected their individual experiences and fostered real relationships to bring, rather than drive, them along. By engaging subject matter experts from across the organization and following a deliberate, high-touch and iterative process of refinement, we gained comfort in our methods and trust in our end results. We built both belief and buy-in.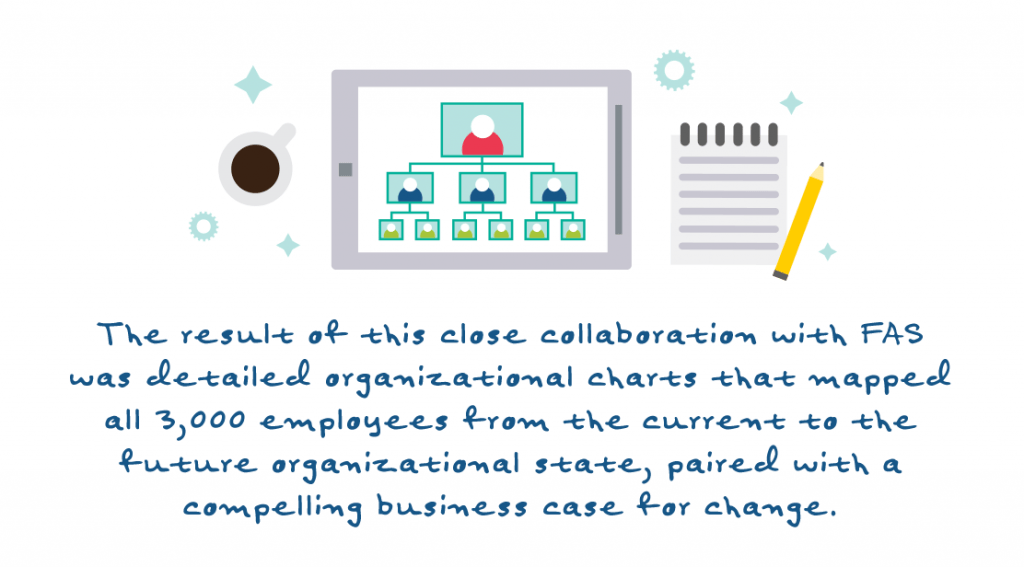 Unconventional consulting—and breakthrough results
The EHC team took an unconventional approach to the design process. Eagle Hill came with no preconceptions; rather, the client's expertise led the way, with EHC supporting and facilitating the journey with our own strategy and change management principles and experience. Additionally, rather than simply re-allocating current staff and filling in gaps, we worked closely with FAS to develop its ideal organizational structure. This structure was based on a deep understanding of the organization's goals in conjunction with its existing strengths and weaknesses. By determining what was truly needed, and how those needs could best be accomplished, we delivered the means to achieve category management, not just the not the recommended form.
The reorganization has been praised as the fastest and most thorough in the organization's history. Our emphasis on an inclusive approach that enables ownership and drives sustainable change helped us fit seamlessly into the FAS culture, while the skillset of our experienced consultants helped us deliver an organizational structure engineered to go the distance. While the Office of Management and Budget has credited category management as saving taxpayers $2 billion since 2012, FAS's reorganization based on category management principles is expected to facilitate significant additional savings.

Related Services
Strategy
Related Industries
Federal government