How do organizations make Asana work for them?
Optimizing an Asana implementation takes knowledge and the willingness to dig in deep to the business needs. As with any technology implementation, establishing the right change management strategy and customizing the tool and workflows are key to maximizing the value of an Asana investment.
We spoke with Eagle Hill's Asana implementation and adoption experts Mary Dalrymple, Pamela Jessell, and Ashley Saffold to get their perspectives on what it takes to get the most out of this tool.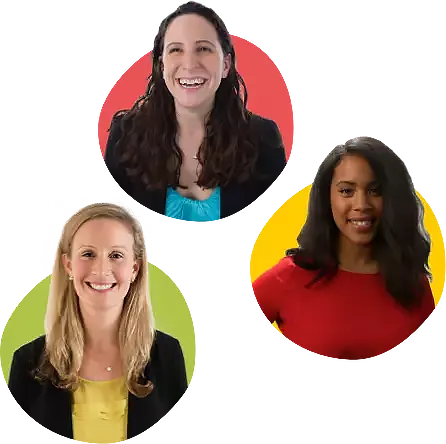 Why might companies look for help from an Asana partner?
Mary: Some clients have a fairly straightforward request when they come to Eagle Hill. They may be looking for basic onboarding and implementation support, initial training, and help identifying the people within their organization that are responsible for driving adoption and momentum across the company. Their goal is usually to promote adoption quickly.
But there are others with more complex, nuanced business needs who are looking to enable their work in Asana and get the most value from their investment. That was the case with an international client we partnered with that was deep into a high-profile technology recovery effort following a cyberattack where they had lost access to many of their applications. They needed a project management solution that would create visibility into resource management and accountability—and they needed to move fast. Not having experience with Asana, they brought in Eagle Hill through our Asana Partnership, to help them get Asana up and running as soon as possible.

Asana is an impressive work management tool that helps teams organize, track, and manage their work in real time. It enables team-based collaboration and provides visibility into projects to increase productivity and drive results.
Why are our services critical in an Asana implementation?
Pam: Clients new to Asana often don't have Asana expertise in-house. Our services help them speed up adoption so they can more quickly realize their intended business results, such as automating work and re-directing time savings to higher value tasks. We take a personalized approach that helps clients understand the 'art of the possible' with Asana, providing hands-on support, tailoring the tool to their unique needs, and making it work as intended.
What are typical challenges clients face in Asana implementations?
Ashley: If a client already has Asana set up, we often begin by assessing how they're using it and if they've already standardized their Asana governance structures, organization, and practices. Most of the time, we discover that employees are using the tool differently across the company.
How do we help clients unlock the value of Asana?
Mary: The Eagle Hill team conducts hands-on sessions designing a "to-be" state for a client's workflows. Then, we mock up how the flows would look within Asana so that the client can realize those efficiency gains. This results in their teams successfully navigating through their high priority strategic projects while keeping cross-functional teams aligned, providing ongoing transparency, and allowing them to effectively manage and deploy their resources.
How do we leverage Asana's workflow automations to benefit clients?
Pam: We build automation into every workflow. That way, the accountability isn't on the users to adhere to the standard practices, it's already automated in Asana. Then, we launch a change management effort to get everyone working in the same way. Prior to implementing, we train users on updates and new structures, which we make available in a variety of formats for on-demand consumption.
What makes the engagement a success?
Ashley: We deliver value to clients by taking our knowledge of their unique pain points and needs to craft a custom, tailored-fit Asana solution. Asana has so many great features, it can be hard for organizations to envision what's possible and what makes sense for them.
Mary: Being the translator between technology and our client, and then actually doing the work to bridge the two. Eagle Hill really shines at putting our clients' business needs at the center and using Asana as an enabler to deliver on their goals.
Related Services
Change
Technology enablement
Related Industries
Technology, media and entertainment

Want to learn more?
Connect with our Asana implementation experts today.