By Melissa Jezior
I'm hopeful this is the year business leaders finally embrace the fact that corporate culture is a business driver – for better or worse. Last year, it seemed there were more examples of culture impacting business for the worse rather than for the better. No industry was immune from culture gone wrong, and bad behavior infiltrated companies at all levels.
Remember the gasps when the CEOs at Nissan and CBS were fired for alleged illegal and inappropriate behavior? At Facebook, the integrity of leadership and employees has been called into question due to alleged mishandling and exploitation of users' private data. Wells Fargo remains plagued by its fake customer account scandal, which now has spilled into the bank's consumer lending, wholesale and wealth-management units. And how can anyone forget the Starbucks employee racial bias incident in Philadelphia that went viral and resulted in the arrest of two innocent customers who were waiting for a friend?
In the wake of these and other scandals in recent years, corporate boards, executives and leaders are finally beginning to fully appreciate that a strong culture isn't a "nice-to-have." It's a "must-have."
Strong Culture = Strong Business Performance
Why is a strong culture a must? Because culture is the heartbeat of an organization, driving employee behavior and consequently, organizational performance. In fact, a growing body of research finds that companies with strong cultures perform better.
Forbes reported last month that there appears to be a deep and lasting financial downside to corporate culture problems. A researcher from Catholic University in Germany looking at the performance of public U.S. companies with controversial reputations found that stock prices not only took a beating at the outset of a crisis, but these companies continued to underperform their benchmarks by 3.5% annually from 2009 to 2016.
Our own research finds that workplace culture has a strong impact on employees' commitment and job performance in critical areas. A nationwide poll of working age Americans we commissioned earlier this year explored how various aspects of employee performance relates to workplace culture.
Corporate culture drives employee performance
We learned that corporate culture impacts: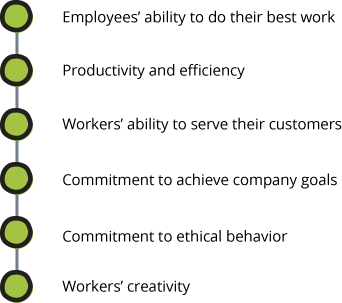 Q: Does the culture at your workplace impact your: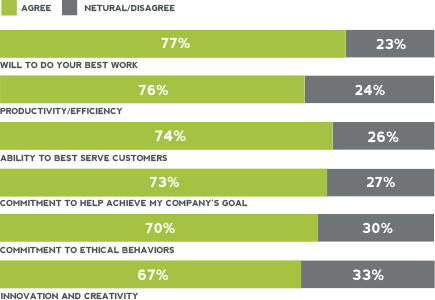 Source: Eagle Hill Consulting Workplace Culture Survey 2018
Moreover, about two-thirds of respondents told us that that corporate culture has a direct impact on their organizations' success.
Culture has a direct impact on business success

Source: The 2018 Eagle Hill Consulting Federal Government Customer Service Survey
These findings couldn't be more clear: culture really, really, really matters.
Failure on culture translates into business failure when it comes to serving customers, avoiding scandals and lawsuits, keeping star employees, and achieving business results. On the flip side, a strong and intentional culture results in employees who are empowered to deliver for customers, a workforce that sticks around for the long-term, and employees who are engaged in fulfilling the organization's mission. It's really that simple.
Three Ways to Make Culture a Business Asset
If you want to learn how culture can break your business, just do a quick internet search for news articles using the terms "culture" and "scandal." A quick read of just a few of the many articles that will pop up provides a playbook of how to create a negative culture that at best will hamper your business and at worst will destroy your business.
Alternatively, here are three steps business leaders can take right now to be intentional about corporate culture and to make business culture better this year – better for employees, customers, investors, and community.
Make culture somebody's job.

You probably have a chief financial officer, someone responsible for customer service and products, and a lead on sales and marketing. Since culture drives all business outcomes, why not designate someone to direct culture? According to the Society for Human Resource Management, more and more companies are hiring chief culture officers.The head of culture, however, shouldn't be the "culture police" but instead someone who guides the overall culture direction, engages with the entire employee base, measures culture (yes, culture is measurable), keeps the leadership team informed, and helps institute change where needed. For larger companies, this may be a full time job for one person or a team, while it can be an add-on responsibility at smaller companies. Regardless of who holds the responsibility, this person must be allowed to provide unvarnished information to leadership and empowered to institute change where needed – even at the executive level.

Hire for Culture.

Perhaps the easiest way to avoid culture problems is to hire only those people who are cultural fits. That's doesn't mean hiring a bunch of "yes men/women." Instead, it means hiring people who are aligned with your core values. For example, some companies place a high value on innovation (think Intel) while other companies may place a high value on delivering exceptional customer service with a flare (think Southwest Airlines). A job candidate may be a perfect fit a company that places a high value on customer service, but a poor cultural fit for an organization that values creating break-through technology at a rapid pace.

The recruiting process is where the values dialogue should begin so there is a common understanding and clear expectations. Discussions during the hiring process also set the tone from the start that the company is deeply protective of its culture and will hold employees to a high standard. Remember that hiring decisions with culture in mind may require balancing a candidate's skills/qualifications and values. Some skills are teachable on the job, but a culture fit sometimes is more innate and something that may not be a "trainable" skill.

Take corrective action quickly and transparently.

Even when a company is doing everything right when it comes to culture, something can go very wrong, very quickly. Case in point: Starbucks. The company is revered for its leadership, its social responsibility, its training and nurturing of employees, and its commitment to ensuring every customer is delighted with their specialty drink. But in an instant, actions by one employee – intentional or unintentional – that aren't aligned with the company's core values can go viral and cause deep reputational harm to a carefully managed brand.Starbucks surely will be discussed in business schools for decades into the future on how to manage and recover from such a corporate culture misstep. The company engaged its leadership team and wasted no time issuing a genuine apology and taking full responsibility for a racial bias incident. In a public letter and video, the CEO expressed the company's deepest apologies and pledged to fix the problem. Starbucks swiftly engaged with local leaders and experts, then took the unprecedented step shortly thereafter to close more than 8,000 U.S. stores for some 175,000 employees to undergo training geared toward preventing discrimination in its stores. The company is still recovering, but strong leadership and staying true to its core values played a major role in mitigating damage to the company.
Every day, I think about Eagle Hill's culture and core values: Impact, Collaboration, Family and Fun. It drives my work and I strive to live these values at all times because I know that culture comes from the top.
I will say, however, that staying true to your culture and values becomes more complex as a company grows in employees and revenue. We've been fortunate at Eagle Hill to experience rapid growth thanks to a committed team of talented professionals and loyal customers.
Given our growth, my resolution this year is to take an even deeper dive into our culture, ensuring it remains an asset – an asset that ultimately benefits our customers, our staff and our business.
Wishing you joy and success in 2019.