"Business as usual" is anything but usual. With your employees looking to you—for reassurance, direction, and support—are you prepared to help them succeed in their new ways of working?
View our can't-miss discussions about managing the workforce amidst the disruptions of the new COVID-19 pandemic work environment.
Previous Webinars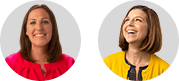 Returning to Work Amid a Pandemic:
How to Prepare the Workplace and Your Employees
Weeks into COVID-19 pandemic shutdowns, organizations and employees are shifting their focus from adapting to extreme teleworking to thinking about the return to work. What do organizations need to do to address employees' concerns and help them feel comfortable returning to the workplace? Join us for a discussion to learn steps you can take now to prepare the workplace and your employees to come back to work.
WHO: Melissa Jezior, President and CEO, Eagle Hill Consulting and
Stephanie Mount, Chief People Officer, Eagle Hill Consulting
WHAT: 45-minute webinar recorded on April 29, 2020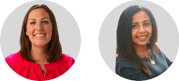 COVID-19 and Employee Burnout:
Maintaining Focus, Productivity and Engagement
Just a few weeks in, the new nature of work has impacted employee morale, and specifically the degree to which employees are experiencing burnout. Learn organizational strategies for fighting employee burnout amidst the COVID-19 work environment, and practical steps to help employees regain focus, productivity, and connection.
WHO: Melissa Jezior, President and CEO, Eagle Hill Consulting and
Binita Amin, Ph.D., PLLC, Licensed Clinical Psychologist
WHAT: 45-minute webinar recorded on April 15, 2020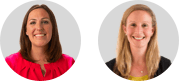 Meeting the Needs of Your New Remote Workforce During the Coronavirus Pandemic
Find out industry's best telework practices and indispensable tips from workplace culture experts on maintaining your employees' connectedness, motivation, and empowerment, even when you are all working apart.
WHO: Melissa Jezior, Eagle Hill Consulting's President and CEO,
joined by Mary Dalrymple, Eagle Hill's Services Lead
WHAT: 45-minute webinar recorded on March 25, 2020

Remote Work for Parents:
Supporting the Special Circumstances of Parents in the New Work Environment
Working from home with children in the house can overwhelm employees—especially those unexpectedly facing the experience for the first time. Learn the most practical steps you can take to ease the learning curve.
WHO: Melissa Jezior, Eagle Hill Consulting's President and CEO,
joined by Laura Kapelski, Learning & Development Lead and
Jamar Gould, Digital Communications Lead
WHAT: 45-minute webinar recorded on March 25, 2020