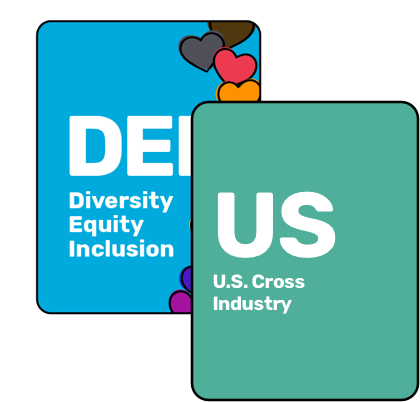 Employees don't think workplace diversity and inclusion (D&I) initiatives go far enough to improve the employee experience (EX).
Employers recognize the value of diversity and inclusion and have made significant investments.
Race and gender inequity are at the top of our national consciousness, and employers are doubling down on workplace diversity and inclusion investments. Forbes reports that 40% of companies around the country increased their D&I budgets in the past six months, and 33% of top executives rank D&I as a top business priority.
Most employers are investing in diversity and inclusion programs because they want to do right for people. They also understand that doing right for people is doing right for the business. Multiple studies have shown a positive correlation between D&I and profitability, performance, innovation, and other business outcomes.
We know that organizations have made diversity and inclusion commitments. But what's happening internally? Are employers' investments making a positive impact in employees' eyes?
Eagle Hill Consulting recently surveyed more than 1,000 U.S. employees to understand how they perceive and feel about their employers' actions to support workplace diversity and inclusion.
Our new research indicates that while many employers are talking about D&I as a priority, they haven't yet demonstrated its importance through their actions. Employees perceive that employers have not done all the work needed to drive meaningful progress, enhance the employee experience, and maximize the impact of their D&I investments.
What we found
Key finding 1:
Employees across generations are engaging in conversations about race, bias, and inclusion at work.
The good news is that most employees (58%) have productive conversations about race, ethnicity, and bias at work. Even when accounting for generational differences, nearly half of employees across all age groups say they are engaged in productive conversations about D&I.
More Millennials (65%) and Centennials (62%) report having productive conversations about these issues than GenXers (55%) and Baby Boomers (47%).
Report having productive conversations about race, ethnicity, and bias at work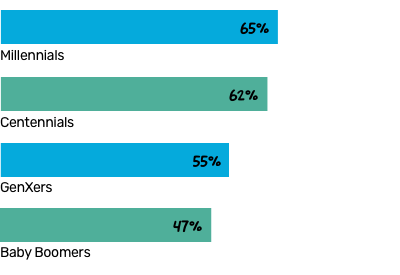 Source: Eagle Hill Consulting Employee Experience Survey 2021
Key finding 2:
Employees don't believe organizations are doing enough to demonstrate the importance of diversity and inclusion and see a gap between employers' intentions and actions.
Most employees (83%) say their organization places importance on D&I in the workplace. However, nearly one in five (22%) is unable to point to anyone in their organization who demonstrates that D&I is important through their actions. Only 31% of employees think leadership clearly demonstrates D&I's importance this way.
What people say versus what people do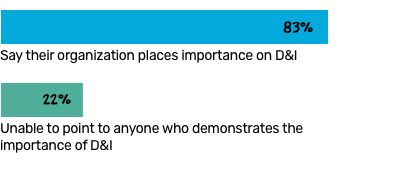 Source: Eagle Hill Consulting Employee Experience Survey 2021
Key finding 3:
Few employees feel that their diversity and inclusion representative demonstrates the importance of D&I through their actions
Only 1 out of 10 employees feel that their diversity and inclusion representative demonstrate the importance of D&I through their actions. While this finding is surprising, it may be due to how these roles are sometimes defined within organizations, not that these leaders lack concern. In many cases, D&I representatives are tasked with transactional, compliance-based work rather than with driving organizational change. Without this broader remit, it can be difficult for D&I representatives to make traction on initiatives despite all the best intentions.
The bottom line
While many organizations are engaging employees in honest and open conversations, Eagle Hill's new research clearly shows that it's not enough for employees. The expectations employees have for diversity and inclusion initiatives don't align with what organizations are currently doing.
So, where do organizations go from here? How can employers make progress against this important issue—both in a quantifiable way and in the eyes of employees?
Key actions to bring diversity and inclusion programs to life

Create a common understanding and shared language.
As simple as this sounds, employers and employees do not have a shared language around D&I. For example, many younger employees may see D&I through a social justice lens, while their employers view it through a compliance lens. This creates a dynamic where employees don't believe leaders are demonstrating D&I behaviors, while leaders think they are doing an excellent job. To avoid this disconnect, organizations need to co-create a shared definition of what D&I means and looks like for the company—and commit to revisiting and reconfirming this view as the environment changes. This mutual understanding creates a shared vocabulary and a touchstone to ground key actions and thread D&I through the employee experience. Developing D&I initiatives that transform the employee experience for the better starts with acknowledging its many dimensions beyond race, ethnicity, and origin. For example, the Centre for Global Inclusion's D&I benchmarks include competence, compliance, dignity, organization development, and social justice.

Elevate diversity and inclusion representatives to the broader organization.
Depending on how D&I representatives' roles are defined, employees may not hear enough from them. And if they do, employees may see D&I as a compliance function tucked away in HR rather than as a strategic function committed to improving the overall D&I climate and culture. Organizations should elevate D&I by ensuring there are dedicated representatives focused on this topic and clarifying their dual role in advocating for employees and building leadership capacity. Organizations should tap into D&I representatives' expertise to push beyond the comfort zone with a "we can do better" attitude. It's key to define what a culture of D&I looks like, what behaviors follow, and what programs can help build and sustain a positive employee experience. For instance, D&I representatives could (and should) play a role in defining how leaders can live D&I values and act as culture change agents. In addition, D&I representatives need a seat at the table and a platform to share their work to create two-way feedback loops with employees and support continuous improvement.

Hold leaders accountable for living diversity and inclusion values.
Leaders are key to creating an inclusive culture and safe environment that welcome and celebrate all perspectives. Organizations should challenge leaders to step up to the plate as D&I change agents and demonstrate their dedication to creating a culture of D&I through their actions, behaviors, and words. To do this, organizations should clarify what role leaders have in owning D&I, provide them with tools and examples of how to model the right behaviors, and embed D&I-related metrics into their performance reviews. Leaders should visibly engage in D&I initiatives and communicate the actions they are taking (and the expected timeline for impact) through multiple venues, including employee forums. They should also show a willingness to be vulnerable, engage in dialogue and admit that they don't have all the answers, as this is where meaningful connections with employees begin. Finally, organizations should set up opportunities for reverse mentorship. This can go a long way in driving D&I improvements across the organization, as younger employees coach leaders by sharing their experiences, understanding and passion for diversity and inclusion.

Use human-centered techniques to drive meaningful dialogue.
To meet employees where they are when it comes to D&I, it's essential to listen to their experiences, ideas, and needs, and empower them to shape and drive D&I activities. Using human-centered design methods and techniques, organizations can solicit diverse employee voices and views through surveys, interviews, and "live" listening sessions. Analyzing key themes that bubble up can help organizations to identify pain points and opportunities and develop a D&I vision and strategy that aligns with employees' needs and viewpoints. As D&I initiatives are implemented, organizations can continue using human-centered techniques to gather feedback and evaluate the extent to which their initiatives are improving the employee experience and what further actions are needed to drive more meaningful change.

Focus on systemic changes to mitigate unconscious bias.
There is no endpoint for D&I. It is an ongoing journey and achieving lasting behavior change requires a hard look at an organization's underlying infrastructure to determine where unconscious biases may be hidden. While this starts with an analysis of policies and procedures, leading D&I organizations recognize that the implicit biases and behaviors ingrained in an organization's culture must also be addressed head on. Imagine that an organization's performance management practices suggest that it evaluates everyone equally. However, the same types of people get access to leaders, are selected for stretch opportunities, and are promoted faster. A good first step for an organization like this would be requiring unconscious bias training for all employees to create awareness and help them act against their personal biases. A second important step is conducting an objective review of performance management and related activities to identify overlooked or hidden factors that limit D&I.
What's next
As leaders invest in diversity and inclusion programs, they cannot maximize returns unless they know what D&I means to employees and translate this understanding into action. While there is much work to be done, we believe that organizations that have built a D&I strategy grounded in changing culture and rooted in employee experience—not just checking boxes—will be the ones that drive meaningful change.
Methodology
The Eagle Hill Consulting Employee Experience Survey 2021 was conducted online by Ipsos in January 2021. The survey included 1,003 respondents from a random sample of employees across the United States. The survey polled respondents on employee experience aspects, including technology, diversity, employee engagement, and customer service.