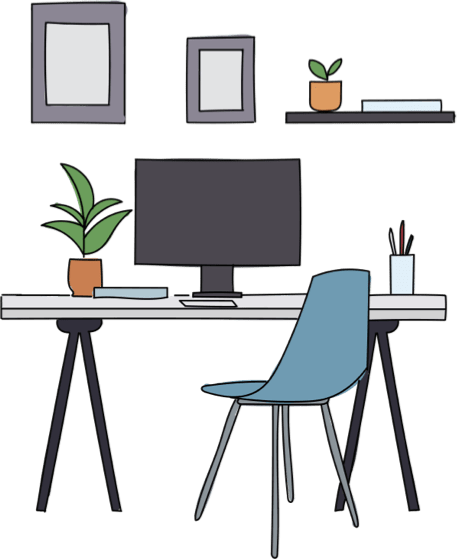 The client's perspective
The Federal Government released an Act more than a decade ago requiring agencies to establish teleworking policies. The goal was to reduce the costs of the real estate footprint, increase productivity, and enable workplace flexibility. In response, U.S. Customs and Border Protection (CBP) began planning its approach. CBP launched one of its frst telework programs at its National Place location in Washington, DC in 2013.
CBP's telework approach was innovative. The agency focused on supporting CBP employees when they telework and when they work in the office. To help do this, CBP's Office of Facilities and Asset Management (OFAM) formed the Mobile Workforce Logistics (MWL) team. MWL now provides logistics, operations, and strategic support to sustain the mobile workforce environment. It serves more than 500 employees in six Enterprise Services (ES) offices.
From the start, creating a sustainable approach with the flexibility to adapt with change was critical for the MWL team. But no one could have imagined that the team's accomplishments with the hybrid workplace would become a foundation for its response to a global pandemic. While other groups scrambled to build a telework infrastructure and processes, MWL had the building blocks in place to meet the challenge—and continue to innovate the mobile workforce.
A new view
As part of its strong focus on sustainment, CBP selected Eagle Hill to help make the most of the telework environment in supporting day-to-day needs—and the employees using it. Our partnership has centered on program management, process improvement, change management, and strategic communications support.
Eagle Hill got started by developing a keen understanding of the MWL team—its goals, challenges, and stakeholders. Our team listened to the client's perspectives and talked to program owners, business partners, and customers. We quickly came to understand the ideal mobile workforce environment, which remains the North Star of our work together.
This vision is clear. Teleworkers had to be able to conduct day-to-day tasks with ease when they were in the office. It's how CBP employees could work efficiently without distraction or frustration. The vision evolved after COVID-19. When the workforce no longer had the option to go into the office, it was important to strengthen virtual communication processes and channels—and create a sense of community during such an unprecedented time.
Key accomplishments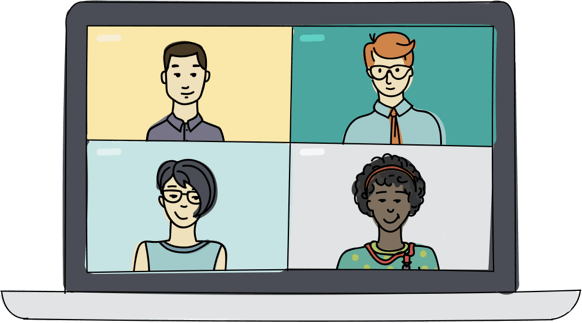 Improving customer service.
In the early days at National Place, it was often difficult for teleworkers to complete basic tasks when they were in the office—things like getting online, reserving a workspace, onboarding, and receiving mail and packages came with frustration. In fact, MWL was handling more than 1,000 requests each month through a single mailbox.

To eliminate process breakdowns, Eagle Hill developed an automated Help Desk. An online ticketing system provides visibility into the status of employee requests, and an executive dashboard helps leaders track effectiveness and request patterns to proactively address common problems. The first version of the Help Desk was a SharePoint-based tool.
To enhance the experience and keep pace with evolving technologies, we transitioned the tool to Microsoft Power Apps—a platform for the development of custom apps that support business logic and workflows. The Power Apps fueled services have enhanced the CBP telework employee experience, making interactions even more user friendly.
Documenting processes and policies.
MWL leadership recognized that making operational changes was only part of sustaining the mobile workforce environment. So in addition to implementing changes for these federal teleworkers, the MWL team worked with Eagle Hill to document them, making processes and policies easy to understand. This was the purpose of the Mobile Workforce Logistics Handbook.
The Handbook is a living document. It codifies MWL resources, workspace protocols, workplace etiquette, safety and security, workspace types, onboarding, governance and more. We converted this tool from a static PDF to a webpage that can be easily updated as employees move through back-to-the-office phases as part of pandemic recovery.
To develop the Handbook, we convened a Task Force, composed of Chief of Staff's from each of the six ES Offices, and conducted customer listening sessions along with a survey to gather feedback from nearly 150 customers. We refined the initial draft based on focus group responses and got buy-in from key stakeholder groups. We also developed a comprehensive communications plan to roll out the Handbook.
Developing strong communications.
MWL communicates to many stakeholders, including its own team, CBP employees and leaders, business partners and contacts at National Place and beyond. We helped develop a number of communications ranging from Help Desk responses to branded communications and briefs.
As part of our work in this area, we conducted a strategic communications gap analysis to assess effectiveness—and to support even stronger customer service. The analysis determined the need and purpose for every communication; the appropriate vehicle, channel and cadence; and raised the internal team's awareness of all communications.
We evolved some approaches after COVID-19. Recognizing that mass communications were "getting lost" in the emails sent each day by CBP leadership, we turned to digital formats like video that were quick to view. We also launched a blog to offer "read this when you need it" communications instead of "read this right now" communications.
Unconventional consulting—and breakthrough results.
Eagle Hill brings a distinctive approach to this program that is grounded in collaboration, innovation, and commitment to help MWL deliver on its objectives. We have helped MWL grow awareness for its services and build trust-based relationships with stakeholders. MWL continues to demonstrate the value of the program, which crystallized even more after COVID-19.
Lanny Capati, Section Chief for Mobile Workforce Logistics, explains a key aspect of the program's success. "We were always balancing the operational and the strategic," she says. "We had process experts focused on the day-to-day while forward thinkers focused on the next transformation priority. Getting this balance right has helped us deliver against our sustainment objectives, and we continue to work this way today."
The success of the program offers several lessons learned for other agencies looking to develop federal telework environments:
01
Involve employees from the start.
We used listening tours, surveys, and feedback loops to incorporate stakeholder insights in every process improvement initiative.
02
Manage the organizational change.
We developed change management approaches that included executive sponsors, communications plans, and training.
03
Make connections that count.
We established a leadership Task Force with senior members from all six offices who act as liaisons between the program and customers.
04
Simplify stakeholder complexity.
We view this project through three lenses—internal, customer, and external—as a way to frame priorities and report on actions taken.
05
Plan to replan—and then do it again.
We are always anticipating change, and looking for new technologies and new opportunities to enhance customer service.
As the telework landscape at CBP continues to evolve over the next several months, the MWL is ready to flex and pivot to sustain a leading mobile workforce environment.
Related Services
Change
Performance improvement
Related Industries
Federal government