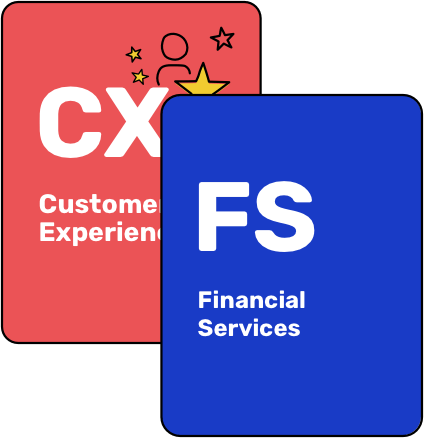 Customer experience (CX) begins at home. Literally. 62% of financial services workers say that the overall employee experience (EX) positively impacts their ability to serve customers. Yet, less than half of respondents (48%) say that their organizations place "a great deal of importance" on employee experience/satisfaction, according to a recent survey by Eagle Hill Consulting of more than 500 U.S. financial services employees.
Why does it matter? The 2020 American Customer Satisfaction Index (ACSI) showed a 2.3% decrease in satisfaction scores in the financial services industry. Crucially, the problem seems to be getting worse: Fully 90% of financial services organizations saw a year-over-year decline in their ACSI scores. The trendline is not encouraging.
Research indicates the problems are on course to compound. Rapidly evolving customer experience expectations in the current environment threaten to overwhelm frontline employees who already feel overburdened by digital online trends and the pandemic. A February 2021 Gartner® report, "To Improve Customer Experience, Improve the Customer-Facing Employee Experience," observes that "87% of companies expect to compete on customer experience in 2021. Yet 57% of customer-facing employees say they aren't 'set up to succeed' in [these] interactions."
Key Finding #1: While financial institutions recognize the link between employee and customer experience, their actions related to employee experience don't reflect its business importance.
In a 2020 survey of executives conducted by Harvard Business Review Analytic Services, "Purpose: The Critical Importance of Tying It to the Customer," 96% of respondents said providing a good customer experience gives companies a competitive edge. The report added that "paying attention to employees' roles in supporting the company's purpose goes hand in hand with building a business where employees feel valued and their work has worth."
Although the connection between employee and customer experiences is not new for most senior leaders, financial services organizations do not seem to act consistently with conviction on that insight. Eagle Hill's survey validates that financial services companies continue to make stronger investments in customer experience. In fact, 57% of employees say that over the past year, their employers have taken greater action to improve customer experience than to improve employee experience. In contrast, only 35% say the reverse. Certainly, organizational investments in customer experience make good business sense; the 2021 Customer Experience Trends report from Zendesk found that 75% of customers are willing to spend more to buy from companies that give them a good customer experience and that 80% will move business to a competitor if they have more than one bad experience. The key question is, will organizations' customer experience investments be matched by increased investment in their employees?
Eagle Hill's survey finds less than half (48%) of U.S. financial services workers say their organization places a great deal of importance on the employee experience/satisfaction. This matters because employees who feel engaged and satisfied with their experience perform better, create better customer interactions, resolve issues more quickly, and ultimately increase customer loyalty.
The underlying challenge is that the major investments financial organizations have made for years to improve customer satisfaction—digitizing interactions, enhancing self-service options, using AI-driven personalization like chatbots, for example—do not typically get at the human element that lies at the heart of the customer experience—that is, their employee experience. Employees have taken note: 62% of financial services respondents say their organizations have prioritized improving customer over employee experience (Figure 1).
Figure 1: Financial services employees have noted the disparity in how their organizations prioritize customer experience and employee experience.

Source: Eagle Hill Consulting Employee Experience Survey 2021
Yet, as customers emerge from the trauma of the pandemic, they are seeking human contact and understanding that it comes from invested and engaged employees. As the Financial Brand asserts, "There are several customer developments banks and credit unions can't ignore in 2021. For one, 'physical' and 'digital' can no longer be viewed as two different things. For another, the line between customer experience and employee experience is blurring."
In our view, safeguarding the overall employee experience through the disruptive changes in customer behavior and workload in financial services could be key to realizing the full benefits of major client technology investments in the industry.
Key Finding #2: Team dynamics, upended by the pandemic, can make or break financial services companies' ability to create positive customer experiences.
Customers may have personal interactions with individual customer service employees, but the customer experience writ large encompasses every touchpoint the organization has with its customers. This is particularly true in B2B financial services. It's the customer-centered cohesion of people, process, and technology that ultimately creates the collective experience for customers. And strong teams make that cohesion happen.
As employees begin to return to the office from their remote work environments, our survey shows that team dynamics have taken a beating. While 87% of financial services respondents in our survey say their immediate team has "some to high impact" on their day-to-day experience, only 16% cite "team collaboration" or "authentic relationships with team members" among what they value most in their day-to-day work experience (Figure 2).
Figure 2: Financial services employees rarely rank relationships among the most valued factors of their day-to-day work experience.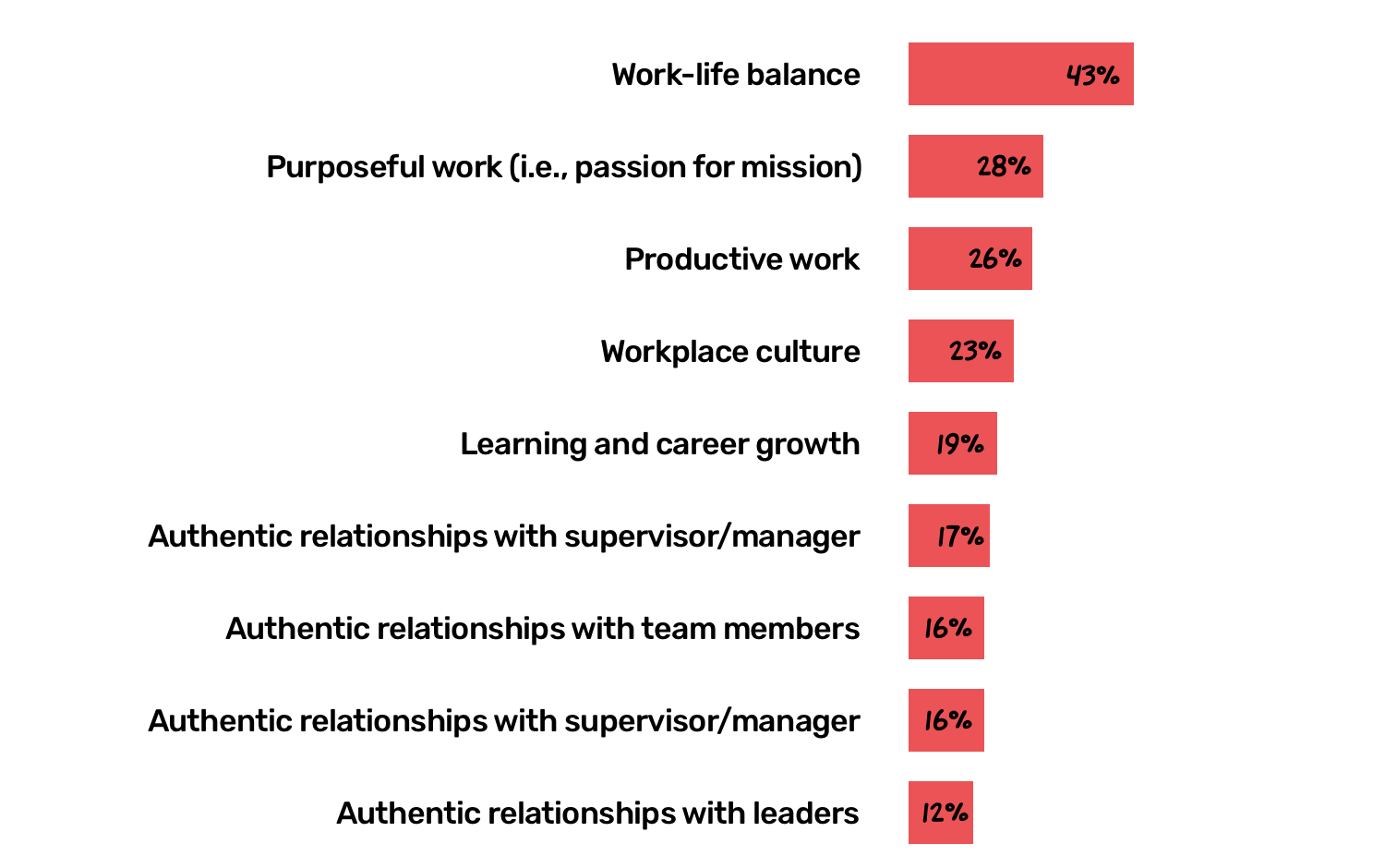 Source: Eagle Hill Consulting Employee Experience Survey 2021
This presents an opportunity. Our survey shows that team dynamics (immediate team, colleagues, supervisor) have a great impact on individual employee experiences. Fortunately, financial services organizations wield significant leverage over how teams are configured and how to make them stronger. Focused attention on rebuilding team relationships entails breaking down organizational silos to drive collaboration across units and functions; leveraging the "voice of the employee" to gain valuable insight into how best to address client needs; and engaging managers to provide on-the-ground coaching that employees need.
Key Finding #3: Financial institutions miss the full customer potential of digital investments by not optimizing their employees' technology experience.
For financial services organizations, technology is an enabler that can dramatically boost employees' ability to better serve their customers: to communicate both internally and externally; to enable personalization through a 360-degree view of their customers; to provide more competitive pricing by decreasing cost to serve customers; and to democratize and act on insights. In fact, according to Eagle Hill's survey, 82% of financial services employees say that technology generally improves their ability to serve their customers.
At the same time, more than one in five (21%) say technology makes their jobs harder overall. Why? For one, our survey shows technology is not always making it easier for employees to collaborate.

21% of financial services employees say technology makes their jobs harder to do.
22% of financial services employees indicate that technology either has no effect or makes it more difficult to collaborate with colleagues. At a time when collaboration among knowledge workers fundamentally shapes both customer and employee experiences, financial services companies cannot afford roadblocks to how their teams work together.
Moreover, while a large majority of financial services respondents do see technology as a boon to their customer service abilities, nearly one-fifth (18%) say technology either doesn't help or makes it harder to serve customers—whether internal or external. Perhaps not surprisingly, the same number disagree that they get the technology training they need to succeed. These findings should serve as a real eye-opener to financial services leaders as they increase their bets on technology-enabled customer strategies and investments.
The employee experience investments financial services organizations need to make to turbo-charge customer experience
Given the importance of the employee experience in driving customer experience, Eagle Hill recommends that financial services organizations:

Involve employees in co-creating employee experience and customer experience. Capture the voice of the employee in the design and creation of both employee and customer experience initiatives. Probe how employees think and feel about all interactions with the business and externally with customers to illuminate challenges, motivations, and opportunities to improve the overall employee experience. The same human-centered design techniques used to design the customer experience—such as persona archetypes and customer journey maps—can be built on and reused to revamp the employee experience. That, in turn, will have positive ripple effects for the customer experience.
At the same time, a more diverse cross-section of employees will be able to highlight unforeseen gaps and potential remedies for both customer and employee experiences, based on their firsthand experiences. Financial services leaders should adopt a customer mindset to think through the touchpoints along the employee experience, asking questions such as the following: "What aspects of the employee experience are causing friction or calling out for greater support? Do employees need their roles more clearly defined? Do they have the right technology and training to serve customers? Are they surrounded by high-functioning teams?" Acting on the answers to these questions should have positive ripple effects for their customer experience.

Focus on team interactions and interventions. Issues presenting as "customer-facing" may in fact be rooted in employee experience problems. Remember, employees who have had to "fly solo" during the pandemic may need some help reorienting themselves as part of a cohesive team that works together to deliver the customer experience. Employee engagement initiatives should not just come top-down from HR. Create channels for individuals to reach across functions and cross-organizational silos to ideate and problem solve.
How employees support one another in the workplace, both in their day-to-day work and in other aspects of their lives, contributes to an environment where employees feel comfortable engaging with their peers. Build team cohesion by encouraging teams to get to know each other beyond their duties. Communicate frequently about team expectations and changes. Then, give employees control over how teams operate.
Another angle for addressing team-level dynamics is by infusing business agility practices into the way client teams (not just technology teams) work. Agile teams create an opportunity for improving both customer and employee experiences. First, agility encourages active and energetic collaboration—a boon to the employee experience. Second, from the customer experience perspective, agile brings together the necessary skills and talents in a teamwork model that promote twofold benefits when developing new customer products and services: speed to market and true reflection of client needs (via iterative prototypes).

Show employees that what they do has a meaningful impact on customer outcomes. Employees want to feel that how they spend their time at work creates value for the business. In fact, our survey found that 28% of financial services employees ranked purposeful work among the top two factors impacting their day-to-day experience, second only to work-life balance (43%).
For example, an HR employee supports employees' growth and motivation, which ultimately affects their ability to serve customers better. An IT employee introduces technologies that make a difference in how effective their colleagues can be in serving end customers. Legal, compliance, risk, and audit employees make it safer for customers to do business with the institution. The goal is to build collective ownership over the customer experience and a shared sense of purpose beyond the specific touchpoints that the individual employee influences.

Demonstrate what a "customer-centric mindset" looks like in action. While 95% of financial services respondents in our survey say they provide excellent customer service, remember that customer experience goes beyond a single interaction an employee has with a customer and that a customer-centric mindset needs to guide every customer touchpoint.
Without organizational direction, few employees will make the explicit connection between vision statements and the individual tactical actions and behaviors that improve customer experience. Break down the specific values all employees should hold to create an exceptional customer experience, as well as the corresponding actions and sample behaviors at both the individual and team levels. Then, bring those values, behaviors, and actions to life through storytelling, day-to-day practices, and incentives.
Reinforce a customer-centric mindset by weaving it into programs across the employee life cycle—from onboarding to performance management to learning and development. Getting all employees on the same page about what the customer vision looks like in practice is the starting point of individual and team accountability.

Tie employee metrics to customer metrics. While most financial services organizations do measure employee engagement/satisfaction, rarely are these indicators looked at alongside customer experience metrics. Start now by listening to your employees and collecting data on the voice of the employee. Elevate employee experience metrics and look at them side by side with customer experience metrics in a joint dashboard, as shifts on the employee experience side (such as employee satisfaction and turnover) could be leading indicators for performance on the customer experience side (such as customer satisfaction). Then, make leaders accountable for both customer/employee experience metrics. As you review the data, zoom into the resources, tools, processes, and culture that help employees create positive value for the customer.
Don't wait on an annual all-employee survey (or, worse, exit surveys!) to tell you how you're doing. Rather, draw on the concept of "listening posts"—maintaining a steady stream of feedback—to keep a pulse on how employees are feeling and create a channel for untapped ideas. Pulse surveys and regular feedback sessions with employees can all help organizations better understand and empathize with the employee viewpoint.
And finally, close the loop.
Share with employees what you're hearing, doing, and seeing as a result.
Gartner, "To Improve Customer Experience, Improve the Customer-Facing Employee Experience, Marketing Research Team, 11 February 2021. GARTNER is a registered trademark and service mark of Gartner, Inc. and/or its affiliates in the U.S. and internationally and is used herein with permission. All rights reserved.