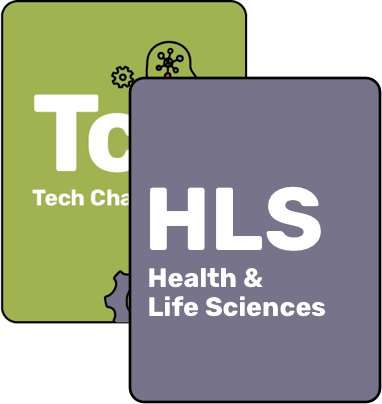 The COVID-19 pandemic forced healthcare organizations to employ technology solutions—and telehealth in particular—to a much greater extent. Yet new research from Eagle Hill Consulting shows that only about one-third (37%) of healthcare employees think that their organization places importance on providing technology that helps make their jobs easier.
Technology change in healthcare is not new
Despite massive investments and technological advances in healthcare, providers struggle to achieve desired productivity and efficiency outcomes, quality of care improvements, and patient experience improvements.
The COVID-19 pandemic only accelerated and underscored technology changes that continue to put pressure on healthcare providers to fundamentally transform operations. The digital front-door experience enabled through telehealth visits became a critical and prevalent way for providing and triaging care over the pandemic year.
This rapidly developing trend toward a virtual care environment could have a dramatic impact on accessibility, quality of care, healthcare outcomes, and patient experience moving forward. However, untapped opportunities to help make healthcare employees' and frontline workers' jobs easier remain.
Figure 1: How much importance does your organization place on providing technology that helps make employees' jobs easier?

Source: Eagle Hill Consulting Healthcare Employee Experience Survey 2021
Healthcare workers' frustrations with technology at work is a symptom of a larger problem
Eagles Hill's survey of more than 500 U.S. healthcare workers reveals that while technology has the potential to make employees' jobs easier and more efficient, a significant percentage do not feel that potential is being realized.
In fact, more than one-third (37%) say technology frustrates them, while nearly one in five (19%) feel technology does not help them be productive. In addition, the same percentage feels that technology makes their job harder. The research responses indicate that this frustration correlates to employee measures that impact both healthcare employee experience and patient experience.
These impacts can negatively affect productivity and ultimately result in burnout—and they are already happening. For example, nurses give electronic health record (EHR) usability an "F" in a recent study that associates poor EHR user experience with nurse burnout. Unable to cope after the trauma of the pandemic, 30% of healthcare workers are considering leaving the profession, according to a Washington Post-KFF poll of healthcare workers.
Burnout and understaffing pose significant risks to patient health outcomes. Moreover, employee frustration and lack of organizational support further erode workers' morale as organizations continue to evolve to adapt to technological change.
Figure 2: Healthcare employees find technology frustrating – and it makes their job harder
For the day-to-day work experiences, does technology generally:

Source: Eagle Hill Consulting Healthcare Employee Experience Survey 2021
Impact on employee experience
Healthcare employees' job satisfaction appears to be closely linked to their satisfaction with the technology they are given to do their jobs. Case in point: Healthcare employees who are not satisfied with their overall experience at work have a more negative view of technology. Nearly half (47%) are frustrated with it. In addition, healthcare employees who are not satisfied with their overall work experience are nearly four times more likely to say their organization places little or no importance on providing technology to help make jobs easier. Finally, 40% of dissatisfied healthcare employees are more likely to think they lack the skills to succeed in a technologically advanced workplace (Figure 3).
37% of healthcare employees are frustrated with their organization's technology in general—and 42% say that technology either does nothing to enable them to be happy in their job or makes work harder.
Figure 3: Healthcare workers dissatisfied with their overall employee experience are more dissatisfied with technology at work
Being productive
Technology at my work helps employee productivity

Making work easier
Level of importance my organization places on providing technology to make work easier

Having the right skills
I believe I have the skills to succeed in a technologically advanced workplace

Impact on patient experience
The research also suggests that healthcare employees' challenges with technology adoption impact the patient experience. Over a quarter (26%) of healthcare employees say that technology at work either does not help or makes it harder for them to serve internal customers and colleagues as well as patients. Additionally, 29% of healthcare employees maintain that technology either has no effect or makes it more challenging to collaborate.
This comes at a time when virtual care management is key to how healthcare employees engage with patients, in addition to the added administrative demands of care being delivered through telehealth to a greater degree than before.
26% of healthcare employees say that technology at work either does not help them or makes it harder to serve customers—both internal and external.
28% of healthcare employees do not feel that their company gives them the technology training they need to succeed.
Equipping healthcare employees for a virtual environment
It is difficult for healthcare organizations to serve patients well when there are significant gaps in employees' technology experience. After all, it is hard to engage the workforce in driving a patient-centric mission when technology becomes a distraction rather than an enabler for providing better care.
Simply implementing the best technology does not always lead to better outcomes. More than a quarter (28%) of healthcare employees surveyed do not feel that their company gives them the technology training they need to succeed. One-quarter of healthcare employees do not believe they have the skills to succeed in an increasingly technologically advanced workplace.
How to lead technology change that works for employees
These insights affirm that technology change is not merely about just rolling out the technology. The value of the technology solution hinges on the widespread adoption and employees fully embracing technology in their daily responsibilities to work more effectively and efficiently. In essence, technology change is about fundamentally changing people's ingrained behaviors in order to deliver better patient outcomes and cost savings.
Technology adoption is often temporary and continues to challenge healthcare leaders looking to gain a competitive edge in the market.
While leading technology adoption methods—such as patient-centricity, usability, human factors, training, and communication—are well-understood conceptually and have been used for years, healthcare providers often find it challenging to implement these methods in a practical manner. This is especially difficult for organizations with legacy technology infrastructures, organizational silos, and decentralized operations. As a result, technology change initiatives are often isolated, temporary, and disconnected series of events. These approaches miss the bigger picture objectives of achieving successful transformation and change adoption.
Organizations should take a more holistic approach to technology change adoption by identifying the needs of stakeholders, defining impacts of changes, continuously preparing people, aligning with their expectations, managing perceptions, and empowering teams to work smarter through focused training. This includes the fundamentals of communication, learning, and development as well as stakeholder and leadership engagement. But most importantly, the approach must codify technology changes into the culture, simplify how the organization works, and drive cross-functional collaboration. Instead of launching one-off change initiatives, organizations should embed technology change behaviors into the company culture starting with these principles:

Recognize that technology is pervasive. Technology should be viewed as a relationship that IT does not fully own. It is important to adopt a cross-functional approach to change that integrates business, technology, and the people using it. This means creating a culture of pervasive technology integrated into business operations and human interactions.

Ensure business leaders own the transformation agenda. Technology change is the responsibility of respective business leaders, not just technology or information leaders, because digital is foundational to how every function works. The workforce outside of IT must "own" their relationship with technology. This will require a mindset shift for business and technology leaders. As such, leaders must act as agents of transformation in redefining responsibilities, skills, and accountability for technology change.

Create continuous feedback loops to shape user experience. The end-users, supervisors, and impacted teams must be engaged and knowledgeable about adoption of new technology solutions. Organizations should incorporate end-user inputs and feedback to identify ways in which technology would be most helpful to improve productivity and enhance experience. Healthcare organizations should also ensure that continuous feedback structures exist as part of the operating model and culture to solicit feedback and act on it in an agile manner.

Empower change champions. To encourage employees to embrace these behaviors, organizations should recognize and reward cross-team collaborators, connectors, and educators. These incentives are vital to introducing and sustaining new behaviors. People who can break structural barriers and bridge organizational silos should be at the forefront of mobilizing change.

Build a strong case for change. Transformation leaders should know the why, what, and how of changes. In addition to understanding how change impacts everyday activities, it is important to know the alignment to the broader organizational strategy and purpose. This way, the big functional pictures do not get lost in the short-term milestones and tactical activities.
Technology change is an integral—and unavoidable—part of conducting business today. It is critical for healthcare providers to recognize that improving technology adoption metrics directly enhances health outcomes, the business case—and the overall return on investment.
Related services and insights
Change
The missing factor sabotaging technology change in healthcare: Employee input

Methodology
The Eagle Hill Consulting Healthcare Employees Experience Survey 2021 was conducted online by Ipsos in January 2021. The survey included 505 respondents from a random sample of healthcare industry employees across the United States. The survey polled respondents on aspects of employee experience, including technology, diversity, employee engagement, and customer service.