Dozens of organizations initiated sweeping layoffs at the end of 2022. Peloton trimmed 12% of its workforce in its fourth round of layoffs, while Elon Musk cut a startling 50% of Twitter's staff. Laid-off employees shared their stories on LinkedIn, leaving countless users to wonder if layoffs would eventually reach them. Amid continued economic downturn, 2023 is showing more of the same with tech giants like Zoom, eBay, Disney, Microsoft, Amazon and others announcing layoffs. This trend continues across the financial industry as Goldman Sachs expects to cut 3,200 employees in the first quarter of 2023.
How layoffs can destabilize organizations
Layoffs don't just impact the employees who get cut—they can destabilize an organization and harm its reputation. Remaining employees may begin to fear job loss and lose trust in leadership. According to Eagle Hill's recent polling, one-third of employees are now less confident in the overall stability and growth of their organization, compared to six months ago. And 85% of respondents in Edelman's 2022 Trust Barometer rated job loss as their top professional concern.
Fear of job loss can have deep reverberations. Research has shown that after layoffs, remaining employees are less productive, experience increased burnout, and are more likely to leave their jobs. Preserving the employee experience amid a time of layoffs is more critical now than ever.
Compassionate layoffs in the age of social media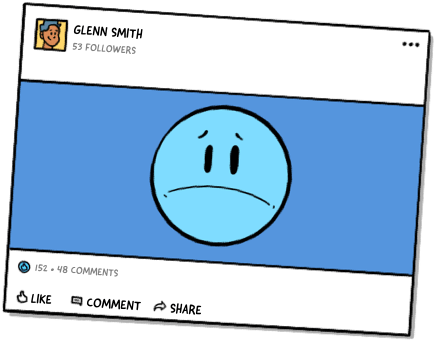 In today's hyper-connected world, layoffs are no longer a purely internal affair. As we've seen, employees are less hesitant to share their workplace experiences on social media.
One internal email from Twitter leadership made waves after being published on LinkedIn. It said layoffs would be announced in brief emails and employee keycards would be disabled immediately. Many of the post's 355 comments expressed disappointment at the seemingly apathetic way of communicating a decision that would impact the lives of thousands. With an organization's reputation at stake, it's important to take every step possible to sow goodwill and preserve positive professional relationships.
If layoffs are the only answer, it's important to make the transition as easy as possible for outgoing employees and to keep communication pathways open. Organizations and remaining employees both have a part to play in supporting laid-off team members during their transition.
4 ways organizations can preserve the employee experience during layoffs

1. Explore all other options before layoffs.
Before resorting to layoffs, weigh the alternatives. Could you convert an employee's status to furlough, contractor, or part-time? Could you reduce executive salaries, or offer voluntary buyouts or early retirement packages to willing employees? If your organization is laying off staff to bring in different skill sets, consider whether you could retrain staff and make position shifts through internal mobility.
A robust, strategic workforce planning methodology can allow leaders to make data-driven, equitable decisions and evaluate the trade-offs of each option. If you must make cuts, it may be time to implement a workforce planning system that can prevent your organization from over-hiring and initiating layoffs down the line.

2. If layoffs are necessary, provide tools and support.
If your organization must make cuts, it's critical to provide a soft landing by offering benefits such as:
A generous severance package
Extended benefits
Access to career coaching or recruiting services
Encourage managers and mentors to reach out to offer personal support. Many "boomerang" employees later return to the same organization, so it's in an employer's best interest to maintain strong professional relationships. Prospective employees and future customers also want to see that companies have treated employees fairly in the past. Staying true to your core values during challenging times can pay dividends in the future.

3. Thoughtfully plan out your communications.
One of the best ways to show compassion is through communication. Many of us saw viral Tweets from Meta employees announcing they'd been laid off through an abrupt email. Word travels fast—and the way organizations communicate a difficult decision matters.
Take time to develop robust internal and external communication plans. Plan every detail and the cascade of communications from meeting timelines, to HR and IT actions, and all-employee communications. Organization leaders must be prepared to comment publicly, show humanity, apologize to those impacted, and speak transparently about why the layoffs were critical.

4. Focus on retaining the high performers that remain.
After layoffs, organizations can expect to see a decrease in employee engagement, lower performance, and an uptick in turnover. It's vital for organizations to institute a comprehensive change management strategy if they want to retain top talent. Layoffs build distrust within the organization, so leaders should reassure top performers of their worth and critical role in the organization's future path. Organizations that take immediate action to rebuild a culture of trust will be in the best position.
4 ways leaders can support their teams when layoffs are unavoidable

1. Write a proactive, glowing recommendation.
Many employees find their next role through LinkedIn. One way to help their transition is to write them a LinkedIn recommendation and offer to be a reference during their job search. Recommendations that speak to the person's character, impact within the organization or team, and business acumen provide the most value. You can also offer to help review their resume or LinkedIn profile to make sure it's as strong as possible for their job search. Helping others helps create a strong professional network—one that would also step in for you if you ever needed professional help in the future.

2. Increase their visibility on social media.
Employees who are laid off often take to social media to let their professional networks know that they're searching for work. You can help former colleagues by interacting with their social media content through liking, commenting, or sharing their posts with your own network. If you see interesting job opportunities in your feed, you can also repost or send these directly to former colleagues.

3. Make introductions.
Most people have hundreds of connections on LinkedIn, and it can be overwhelming to sift through those contacts and identify relevant connections. You can help your former colleagues by proactively identifying people in relevant roles. Instead of "let me know how I can help," you can say, "I know the Chief Human Capital Officer at a company you might be interested in, would you like me to introduce you?" Even if that contact isn't actively hiring, a conversation between two people in the same industry can be valuable to both.

4. Offer to talk and express your gratitude.
Experiencing layoffs can be detrimental to one's mental health and general well-being. It can be isolating to go from a full schedule of meetings to an empty to-do list in a matter of days. You can lift up former colleagues by offering to connect and learn more about what they want to do next. Sharing your appreciation for their contributions and the time you spent working together can go a long way to boost their self-esteem and help them through a difficult time.
Related services and insights
Talent
Recession readiness: The case for looking beyond cost cutting