Arlington, Va., December 19, 2018 – Federal employees say that employee decision-making authority is the top customer service weakness for government agencies. Some 65 percent say this is a weakness, while 55 percent say that providing on the job technical customer service training is a strength.
Details are contained in a new research series, Improving Customer Service in Federal Government: Start Here. The research was conducted by Eagle Hill Consulting in collaboration with Government Executive research intelligence division, Government Business Council (GBC). Download the research here.
FEDERAL EMPLOYEES SAY THE #1 WEAKNESS IN CUSTOMER SERVICE FUNCTIONS IS GIVING DECISION-MAKING AUTHORITY TO EMPLOYEES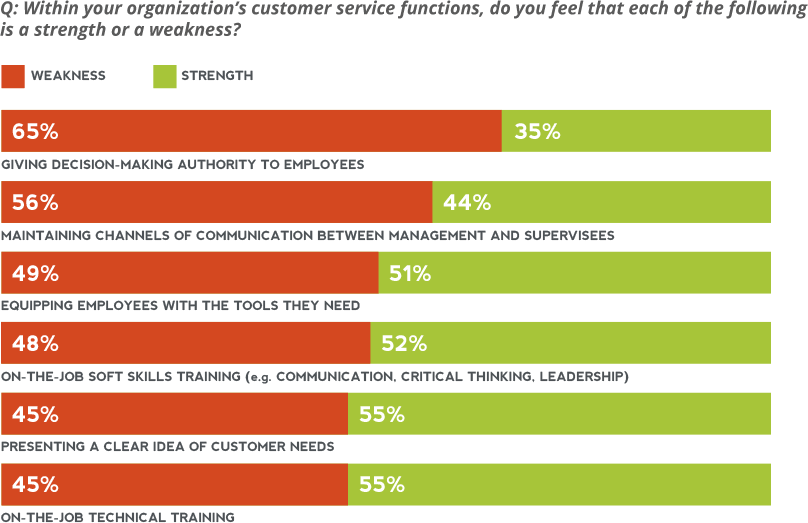 Source: The 2018 Eagle Hill Consulting Federal Government Customer Service Survey
The findings come as agencies must improve customer service under the President's Management Agenda and Office of Management and Budget guidance.
"The research sends a clear message that agencies must take steps to re-evaluate how they are empowering employees to manage customer service decisions," says Melissa Jezior, Eagle Hill's president and chief executive officer." Often times, front line employees can resolve customer service issues quickly, but not if they are hampered by bureaucratic red tape."
"Our research also finds a significant disconnect between how employees rate the factors that are critical to delivering excellent customer service and their agency's effectiveness in these areas. For example, 77 percent say that communication between levels of customer service staff is important, yet only 29 percent say that their agency measures up. Another mismatch relates to measuring customer satisfaction. The good news, however, is there are ways agencies can quickly implement programs to empower employees and close these gap. The result will be measurable and significant customer service improvements for agencies," Jezior explained.
THERE IS A MISMATCH BETWEEN KEY FACTORS EMPLOYEES SAY ARE CRITICAL TO CUSTOMER SERVICE, AND HOW THEY RATE EFFECTIVENESS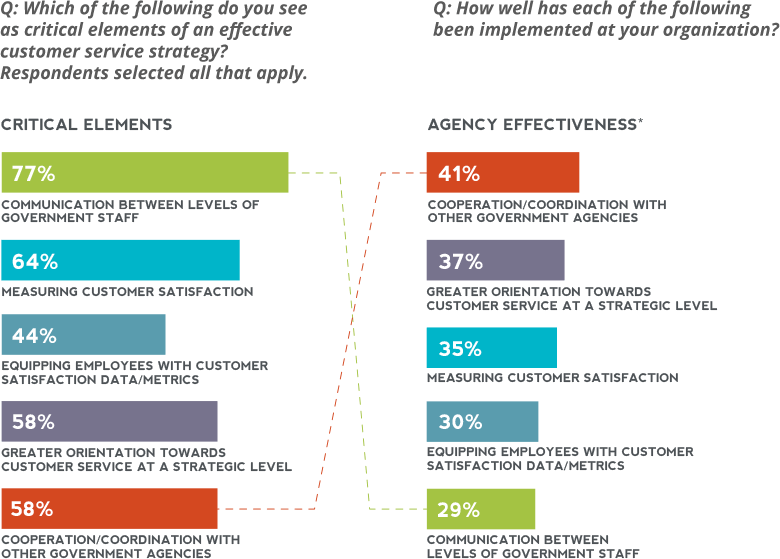 *The percentages above represent the share of respondents who think each of the above has been implemented effectively at their organization.
Source: The 2018 Eagle Hill Consulting Federal Government Customer Service Survey
This is the final segment in a series of four reports Eagle Hill is releasing with data findings and insights on federal agency customer service challenges and opportunities. The first report found that organizational culture is more important than technology and budgets when it comes to improving customer service. The second report found that more than half of federal employees (56 percent) say their agency does not measure customer service effectiveness. The third report found that (80 percent) of Federal employees say that no one leader is in charge of customer service at their agencies.
The most recent President's Management Agenda and OMB Circular No. A-11, Section 208 are requiring agencies to substantially improve customer service. Agencies must make improving customer experience a priority and deliver modern, streamlined and responsive experiences from federal agencies. Download here Eagle Hill's new Three Minute Guide for Federal Agencies to OMB Circular A-11 Section 280.
The 2018 Eagle Hill Consulting Federal Government Customer Service Survey was conducted online by GBC between June and July 2018. The online survey included 625 respondents from a random sample of respondents across the Federal Government including civilian and Department of Defense agencies. This research series provides a roadmap for government leaders to steer their agencies and offices in the right direction.
Learn about Eagle Hill's Public Service practice here.
Eagle Hill Consulting LLC is a woman-owned business that provides unconventional management consulting services in the areas of business strategy, process improvement, organizational design, change management, program management and human capital consulting. The company's expertise in delivering innovative solutions to unique challenges spans across the private, public, and nonprofit sectors, from financial services to healthcare to media & entertainment. Eagle Hill has offices in the Washington, D.C. metropolitan area and in Seattle, WA. More information is available at www.eaglehillconsulting.com.
Media Contact: Susan Nealon
703 989-5714 | snealon@eaglehillconsulting.com | @WeAreEagleHill