Eagle Hill Survey Identifies Values Gap: 70% of Feds Say Customer Service is a Core Value, But Only 31% Indicate Agencies Implement Service Fundamentals
Arlington, Va., November 14, 2018 – Federal employees say that organizational culture is more important than technology and budgets when it comes to improving customer service, according to new research from Eagle Hill Consulting. When federal employees were asked what factors would significantly improve customer service in government, the research finds:
69 percent say it is enhanced workplace morale.
61 percent point to empowerment of customer service staff.
54 percent say there is a need to improve information technology.
45 percent call for additional financial resources.
These findings are contained in new research, Improving Customer Service in Federal Government: Start Here. The research was conducted by Eagle Hill Consulting in collaboration with Government Executive research intelligence division, Government Business Council (GBC). Download the research here.
MORE EMPLOYEES SAY CULTURE ELEMENTS (VERSUS IMPROVED TECHNOLOGY) WILL SIGNIFICANTLY IMPROVE CUSTOMER SERVICE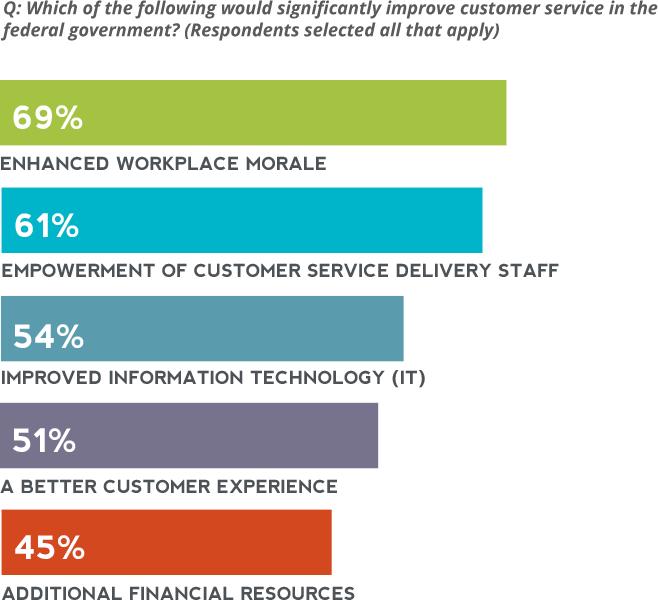 Source: 2018 Eagle Hill Consulting Federal Government Customer Service Survey
Eagle Hill will release three additional reports in the coming weeks with data findings and insights on federal agency customer service challenges and opportunities.
The research also finds there is a major disconnect when it comes to implementing agency core values. Some 70 percent of federal employees indicate that customer service is a core value, but only 31 percent say their agency is implementing key elements of customer service.
"The pressure is on agencies to substantially upgrade their customer service. This research provides a roadmap for government leaders to steer their agencies and offices in the right direction," says Melissa Jezior, president and chief executive officer of Eagle Hill.
The most recent President's Management Agenda and OMB Circular No. A-11, Section 208 have brought the topic of government customer service front and center. Agencies must make improving customer experience a priority.
"Eagle Hill's research finds the cultural infrastructure clearly isn't in place to successfully deliver a better customer experience. For example, agencies can start by improving employee morale and empowering customer-facing employees. Yes, technology solutions and financial resources are essential, but more coding and dollars can't drive better service when there are culture and people issues," Jezior explained. "After all, federal employees are the face of customer service, and their brainpower and ideas drive improvement."
The research indicates that agencies are wise to take targeted actions to improve service given that less than half of employees say their organization is implementing the fundamentals of customer service. This includes: cooperation between agencies (41 percent), customer service orientation (37 percent), measuring customer satisfaction (35 percent), providing employees with metrics (30 percent) and communication among levels (29 percent).
LESS THAN HALF OF EMPLOYEES SAY THEIR ORGANIZATION IS EFFECTIVE AT ACTIVITIES IDENTIFIED AS CRITICAL ELEMENTS OF CUSTOMER SERVICE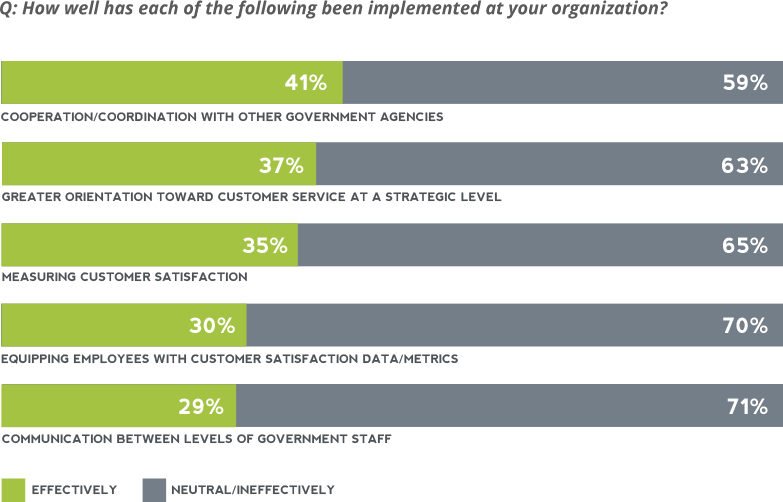 *Note: 18% of respondents chose "other" as a response.
Source: 2018 Eagle Hill Consulting Federal Government Customer Service Survey
The 2018 Eagle Hill Consulting Federal Government Customer Service Survey was conducted online by GBC between June and July 2018. The online survey included 625 respondents from a random sample of respondents across the Federal Government including civilian and Department of Defense agencies.
Learn about Eagle Hill's Public Service practice here.
Eagle Hill Consulting LLC is a woman-owned business that provides unconventional management consulting services in the areas of business strategy, process improvement, organizational design, change management, program management and human capital consulting. The company's expertise in delivering innovative solutions to unique challenges spans across the private, public, and nonprofit sectors, from financial services to healthcare to media & entertainment. Eagle Hill has offices in the Washington, D.C. metropolitan area and in Seattle, WA. More information is available at www.eaglehillconsulting.com.
Media Contact: Susan Nealon
703 989-5714 | snealon@eaglehillconsulting.com | @WeAreEagleHill