Amid the COVID-19 pandemic, labor shortages, and heightened demand across all healthcare sectors, a large federal health agency needed help meeting workload demands and weathering the impacts of burnout and turnover. The agency called on Eagle Hill to help build a strong recruiting pipeline and improve the employee lifecycle—from first learning about the agency or job opportunity, to recruitment, to hiring and onboarding, through development, and finally to their exit and post-employment experience.
Having successfully built and implemented a resource capacity planning tool to forecast workload and the associated skillsets needed to complete the work, Eagle Hill had the knowledge and expertise required to help the agency battle hiring challenges, increase employee engagement, and start planning for the future of work to meet the mission.
Goal: Improve the agency's employee lifecycle processes, increasing employee engagement throughout.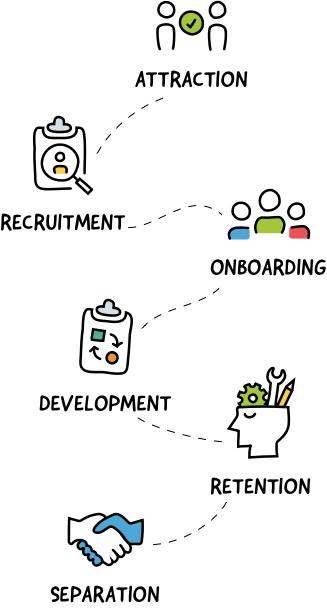 Unconventional consulting—and breakthrough results

increase in applications through targeted, innovative communications

hiring packages submitted resulting in new hires, promotions, and other actions benefiting employees

decrease in hiring meetings, saving leadership 4+ hours of meetings per month due to efficiencies in reporting

increase in LinkedIn followers in just 8 weeks
Our starting point

Understanding the complex challenges associated with the long time-to-hire in government and the increased demands on our client due to the COVID-19 pandemic, our team needed to remain flexible and responsive to client needs.
The roadmap to success
To start, Eagle Hill obtained and cataloged all relevant documentation for each step in the employee lifecycle to create a repository of easily accessible resources.
Acknowledging the difficulty in reducing government hiring timelines, our team focused on improving the quality of applicants by creating a LinkedIn page for the organization and revising job descriptions and job postings to aid targeted recruiting efforts through social media.
Our team focused on DEIA (Diversity, Equity, Inclusion, and Accessibility) initiatives including the creation of a DEIA Strategic Plan and subsequent actions to achieve the plan. These included DEIA toolkits for managers, heritage month communications to celebrate various holidays, and DEIA onboarding materials to increase employee engagement.
To improve employee onboarding and offboarding processes, our team created surveys to gather feedback and better understand where employees needed additional support.
Succession planning is essential for any organization's sustainability. To get the process started, our team collaborated with senior leadership to define the organization's essential pillars of business required to meet the mission. With this in hand, we mapped out a process for the organization to identify potential successors internally and identify the learning and development resources they'd need to be prepared to lead.
Related Services
Talent
Related Industries
Federal government

Let's go where you want to be
Eagle Hill helps organizations of all sizes, in all industries bring their business goals to life.