While workload and worker shortages are contributing to continued high levels of employee burnout, employees say they are comfortable talking about burnout and have ideas on how to alleviate stress. Initiating burnout conversations is the first place for managers and employers to start, otherwise they risk employees walking out the door in a tight labor market.
Too many workers say they are burned out, with government employees and younger workers reporting the highest levels of burnout

Percentage of workers reporting burnout by sector


Percentage of workers reporting burnout by generation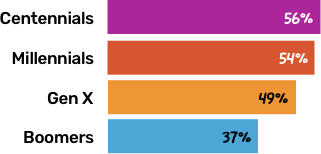 Burnout has dipped since the early days of the pandemic, but remains high
Percentage of workers reporting burnout over the last two years

Workload and worker shortages are inflaming burnout across industries
What's driving your burnout?

Leading causes of burnout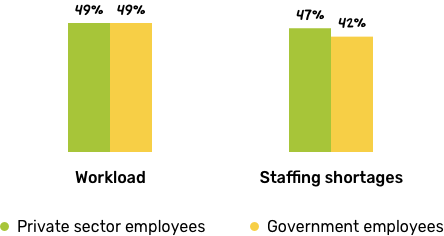 The good news is employees are open to having conversations about burnout
Would you feel comfortable telling your manager that you feel burned out?
Yes
for private sector employees
Yes
for government employees
Workers say there are ways to reduce burnout
Percentage of workers who say their burnout would be reduced by the following: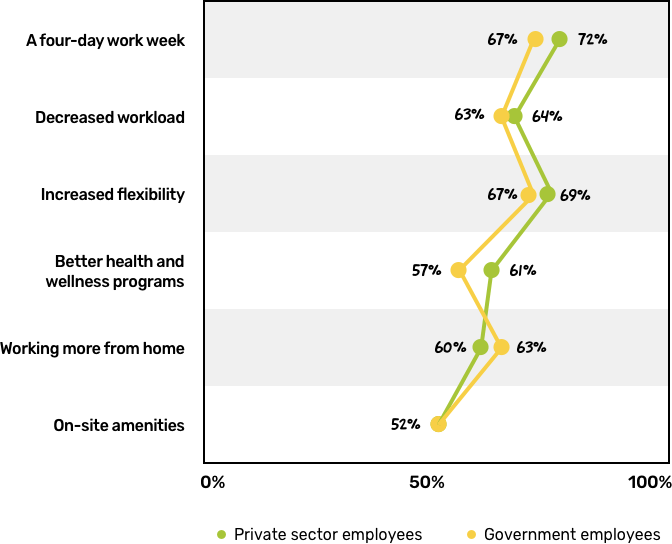 It's encouraging to see that worker stress is dipping, but the high burnout levels are a red flag for employers. When employees are exhausted, stressed, or feel like they can't perform they'll look elsewhere for employment."
— Melissa Jezior, Eagle Hill Consulting President and Chief Executive Officer
Methodology
These findings are contained in a workforce survey from Eagle Hill Consulting conducted by Ipsos from August 11-16, 2022. The 2022 Eagle Hill Consulting Workforce Burnout Survey included 1,000 respondents from a random sample of employees across the U.S., and a sample of 682 federal, state, and local government workers. Respondents were polled about burnout and vacation.