Remember the "she-cession" just a few years ago when women were leaving or losing their jobs at record rates during the pandemic? Many women, particularly those in service industries, faced layoffs while others left the workforce to cope with child-care disruptions, Zoom schooling, or health concerns. Fast-forward to 2023 and the labor force participation rates for women have finally rebounded. Last month, the Bureau of Labor Statistics reported that the number of women in the workforce was higher than pre-pandemic levels for the first time, at 77.8 million.
While it's good news that women are back on the job, they continue to face many of the same chronic workplace challenges: the gender pay gap, higher burnout, and fewer career growth opportunities. In fact, a new Government Accountability Office (GAO) report to Congress found that women still aren't getting leadership positions nor top pay—even in industries they dominate.
Eagle Hill's own research is consistent with those findings. Nationwide polling of the U.S. workforce in the Eagle Hill Consulting Employee Sentiment Survey found that compared to men, women are reporting:

Higher burnout

Fewer career growth opportunities

Lower rates of confidence in leadership, their organization, and the economy
This is a clear signal to organizations that they need to carefully evaluate and re-tool how they are meeting the needs of female workers, especially given that their workforce participation is climbing. Otherwise, employers will be at a deep disadvantage when it comes to attracting and retaining women.
Digging into the data: What hurdles do women face at work?
Less growth opportunity and lower organizational confidence
The new GAO report found that while women account for the majority of workers in a third of major U.S. industries, they are underrepresented among managers and executives in all but one. Eagle Hill's research had similar findings. Women were nearly 40 percent more likely than men to say that they don't have a path for career growth such as promotions and lateral movement at their organizations. When they feel "stuck in place," women are less likely to feel motivated to excel in the job—and more motivated to look elsewhere for employment.
Additionally, women express lower levels of confidence in their organization and leaders. More specifically, Eagle Hill research found that 38 percent of women lack confidence in the stability and growth of their organization, compared to 29 percent of men. Moreover, more women lack confidence in their managers and in their organizational leadership.
Taken together, these findings reveal an urgency for employers to build trust and confidence among women around the stability of the organization, and also shape career and growth opportunities for women. Otherwise, there is little motivation for women to perform at a high level and to stick around.
Women are nearly 40% more likely than men to say that they don't have a path for career growth at their organizations.
Higher burnout
Nearly half of women workers are burnt out, more than their male counterparts, and the gap is widening. These high levels of burnout are problematic because it often leads to disconnection from the job, which in turn is detrimental to individual and organizational performance and ultimately the bottom line.
Burnout is a lose-lose situation for both the employee and employer. Going forward, organizations would be prudent to think strategically about the causes and solutions of growing burnout among women, and how to normalize conversations and transparency around the topic.
The burnout gap is widening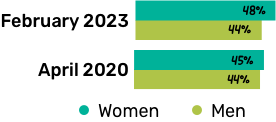 Given the issues women are facing in the workforce, what can employers do to retain top talent and give women the resources they need to thrive?
How to support women in the workplace

Abandon the one-size-fits-all mindset. Employers should strive to understand the unique needs and drivers of women in the workplace. Some employees may be motivated by flexible schedules, while others may be interested in exploring alternate roles within the company. Find out what matters to women in your organization and try to work with them to achieve it.

Foster a check-in culture. Creating a check-in culture helps employers better understand what their employees are experiencing and provides insights into how managers and organizations can help. Carving out a designated time to discuss challenges and successes can help employees feel more comfortable bringing forward their concerns.

Increase transparency and feedback loops to build employee confidence. At times when employees, especially women, are reporting a lack of confidence in their organization and leadership, it's important to foster trust through honest conversations. Consider talking through your employees' concerns in all-company meetings or fireside chats that give employees insight into the future of your organization or industry.
The bottom line:
As we celebrate women and the incredible advancements they've made in the workplace, it's important to remember that we have a lot more progress to make. As leaders, it's our responsibility to make the changes that make our organization a place where women can share their needs, advance in their careers, and lead others.
Methodology
The data findings are based on Eagle Hill Consulting's 2023 Employee Sentiment Survey conducted by Ipsos from February 7-10, 2023. The research included 1,393 respondents from a random sample of employees across the U.S.