American employees say that worker shortages are contributing to employee burnout, yet employers continue to struggle to fill positions and keep employees from walking out. Employers have no choice but to fully examine their employee experience, engaging with their workers to really understand their pain points and collaborate on solutions.
Half of working Americans say they feel burnt out at work.

Worker shortages are inflaming burnout
Nearly two in three workers say staffing shortages are contributing to employee burnout.
Agreement is highest among women and younger workers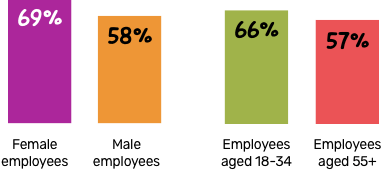 Workers signal that the Great Resignation is likely to continue
Workers report they are likely to leave in the coming year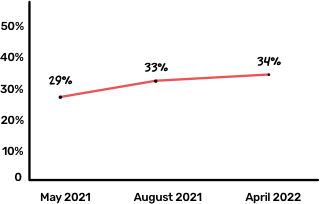 One third of employees indicate they are likely to leave their organization in the next 12 months, a number that continues to rise.
Workers report they are likely to leave in the coming year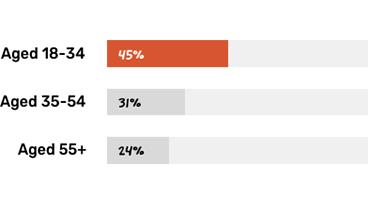 Younger workers are more likely to leave.
Top causes of burnout
What are the leading causes of employee burnout?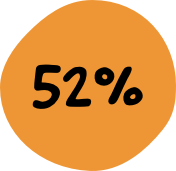 attribute burnout to their workload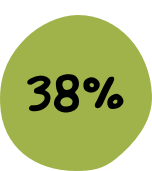 say it's juggling work and personal life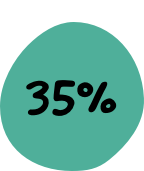 cite a lack of communication, feedback, and support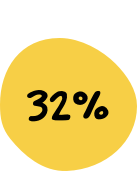 point to time pressures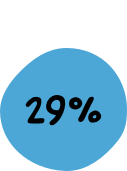 say its performance expectations
There are ways to reduce burnout at work
Which of the following would reduce burnout at work?

67%
say a four-day work week

64%
say increased flexibility

62%
say a decreased workload

57%
say better health and wellness programs

51%
say working more from home

48%
say more on-site amenities

39%
say the ability to relocate or work from multiple locations

Employees who remain on the job are feeling the sting of the Great Resignation. Just a few months ago, the pandemic was a driver of employee burnout, and now we're seeing staff shortages as a major culprit of worker stress.
— Melissa Jezior, Eagle Hill Consulting President and Chief Executive Officer
Methodology
The findings are based upon the 2022 Eagle Hill Consulting COVID-19 Workforce Burnout Survey from Eagle Hill Consulting conducted by Ipsos in April 2022. It included 1,003 respondents from a random sample of employees across the United States regarding burnout and retention.