Diversity and inclusion in the workplace
Doing the right thing for people—and for the business
Making diversity, equity, and inclusion (DEI) part of the genetic code of an organization isn't just the right thing to do for people. It's also good for the business. It fosters innovation, performance and competitiveness. We help clients develop diverse workforces and inclusive workplaces that cultivate a culture of belonging. We are on the same journey ourselves—because we can all do better.
What is employee belonging—and how do companies foster it?
To be successful in DEI efforts, organizations must create a company culture that enables a true sense of employee belonging. This is when employees feel they are valued members of the group who can bring their whole selves to work.
Together, diversity, equity, inclusion, and belonging are essential to creating an organizational culture where individuals can thrive. Each is vitally important in itself, and together, they are a powerhouse.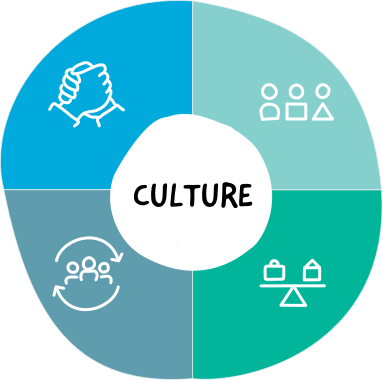 Diversity
unites people with different characteristics and backgrounds

Equity
ensures fair treatment and opportunity

Inclusion
guides norms and practices to make people feel welcome

Belonging
is fitting in or feeling like you are a valued member of a group
Why do diversity, equity, inclusion and belonging matter in the workplace?
How do we help our clients drive sustained diversity and inclusion change?
This work can be overwhelming. We have seen the pitfalls before:
Organizations reduce diversity and inclusion to a standalone activity.
They treat it as a compliance exercise or isolate diversity and inclusion programs in human resources.
They struggle to get leadership buy-in and engage employees.
Or they are not comfortable having uncomfortable conversations about race and bias at work.
This makes it difficult to know where to start, how to align around a common vision, or what meaningful progress looks like.
It doesn't have to be this way. We break it down with a straightforward approach for threading DEI into everything organizations do—leadership, systems, processes, policies and programs. We meet organizations where they are in their diversity and inclusion journey and help develop a plan to drive lasting change. All while bringing employees along on the journey.
We help clients to:

Identify strengths
and gaps
We get the pulse of the workforce through conducting employee surveys, analyzing organizational data, conducting focus groups and assessing other inputs to determine the current state of DEI and pinpoint needs and opportunities.

Create and deliver
new strategies
We understand that this is a journey. That's why we help clients chart a path forward, setting a DEI strategy, identifying milestones, engaging employees and communicating effectively. Through this process, we identify and deliver quick wins from the start.

Drive lasting
culture change
We emphasize meaningful culture change. As such, we focus on competency development and change management to influence positive DEI behavior change across the organization—infusing DEI ideals and values into the workplace culture.
Get comfortable with the uncomfortable
It's important to normalize conversations about race and bias at work. So what can organizations do to start the conversation, make sure every voice is heard, and take real action to create a more diverse and inclusive environment? We talked to three experts over three webinars to find out.

Cultivating inclusive spaces on cultur(ED)
Tune in to our cultur(ED) podcast as host and CEO, Melissa Jezior, chats with innovative leaders who are creating spaces where everyone and anyone can participate and feel safe.
Related capabilities
The realities of business are constantly changing. Our capabilities can help you meet today's challenges while laying the foundation for a sustainable and flexible future.
Culture & performance
Eagle Hill helps organizations find the direct line from culture to business success. We provide our clients with the tools and metrics to optimize their culture investments and make more informed decisions.
Leadership launch
Our leadership transition solution, Leadership Launch, prepares clients to manage the adjustments of a change in leadership so their organizations can soar.
Workforce planning
Eagle Hill helps our clients align their workforce with the needs and priorities of their business. Through workforce planning, they get the right people in the right roles at the right time to power future success.
Diversity & Inclusion Case Studies
Unconventional consulting leads to unbelievable results
Here are a few examples of how we provide impact for our clients. From boosting employee retention to planning market entry, our years of creative and strategic experience have helped clients across industries reach their potential.
State and local government: Infographic
To improve the diversity, equity, and inclusion (DEI) climate at a prominent research university, we conducted a survey to assess the current state and develop a roadmap for targeting the focus areas most important to students, faculty, and staff.
Federal government: Narrative
When the number one grant-making organization in the government faced sustainability concerns, we brought employees at all levels together for collaborative solutions to increase engagement, strengthen culture, and improve retention.
Want to learn more about how to develop diverse workforces and inclusive workplaces that cultivate a culture of belonging?