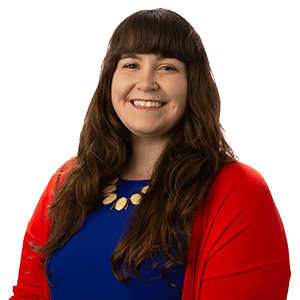 Emma Eisler
Campbell University
Georgia State University
University of Edinburgh Business School
My hobby
I love making tile mosaics! Cutting tiles down to the right size and laying them out into the vision you want to achieve is like creating your own little puzzle.
What energizes me the most
Getting together with friends – whether it's been days since we've seen each other, or we've spent years apart, coming together to laugh and catch up is always the best.
If I were a superhero, I'd be…
Does Edna Mode from The Incredibles count as a superhero? I'd love to be Edna Mode! She's so fierce and at the top of her game.
My theme song
"Spice Up Your Life" – Spice Girls. Always a classic.
The most valuable piece of advice I've ever received
Remember to be kind to yourself.
Favorite part of working at Eagle Hill
The people. I'm so lucky to be surrounded by such passionate, knowledgeable, and hard-working folks on a daily basis. I can feel that everyone across the firm is working together to uphold our core values (family, collaboration, fun, and impact), which makes working together such a joy!