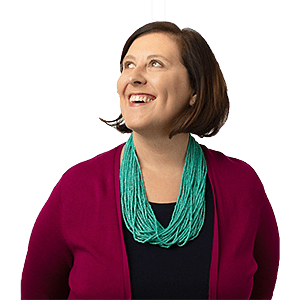 Gaby Hess
Ithaca College
The qualities that make me an "unconventional consultant"
I spent the early part of my career in corporate America and then spent some time in higher education. Being able to adapt in different settings, and my ability to build relationships with clients, is something I've always carried with me. Those two qualities, along with my natural curiosity, make me unconventional.
My favorite motto
"Ten el valor de equivocarte," which translates from Spanish to (roughly) "Have the bravery to make mistakes." It can apply to so many things in life, from trying out a new recipe to testing out new ideas at work.
If I were a superhero, I'd be
Perhaps not a superhero for some, but one to me—I'd pick Princess Leia. She was a fearless leader who spent her life fighting for what was right.
The most valuable piece of advice I've ever received
"Look for the 'gulp.'" When you're looking to make a switch in life (a new job, new city, new relationship), you should look for something that will stretch you.
What else do you want us to know?
I was a Certified Tourist Ambassador in Baltimore, and a Baltimore Magazine Top Single in 2008.