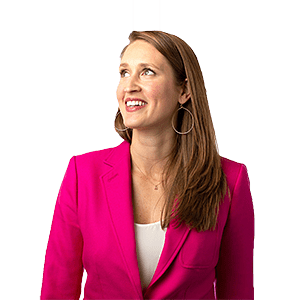 Meredith Franco
University of Virginia
Something most people might not know
The summer before my senior year in high school, my job was the lead cook in a small seafood restaurant in North Carolina. Not sure who thought it was a good idea to put a 17-year-old in charge of the kitchen, but I loved it! I still have the white chef's jacket they gave me.
Favorite part of working at Eagle Hill
The people! Everyone is so encouraging and helpful. I always feel like my team has my back no matter what.
My favorite getaway spot
Topsail Island, NC (family vacation spot) or Ponte Vedra Beach, Florida (where my husband's family is).
My favorite book from childhood
My sisters and I were all obsessed with Nancy Drew as kids. I wonder if that has something to do with my love of problem-solving in adulthood.
My hobby
All things health and wellness! I'm a certified group fitness instructor and health coach, so I spend a lot of my time outside of EHC in this space. I also love to cook and read!