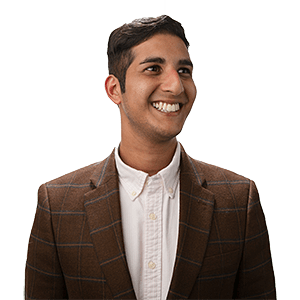 Samir Shamsuddin
University of Arizona
Something about me people might not know
I developed a sudden interest in the arts during my teenage years and found myself performing on stage multiple times, from singing in a high school production of Footloose, to dancing at the Palais de l'Europe on the French Riviera, to playing a theater role in Italian.
My favorite part of working at Eagle Hill
A positive and nurturing environment, world class talent across the board, and the seemingly endless list of fun-filled company events that continue to remind me why Eagle Hill is a best place to work.
What "breaking away from the expected" means to me
It means pushing the envelope beyond the established best practices and crafting human-centered solutions that not only deliver tangible value, but add a memorable and personal touch for our clients.
A life change that seemed risky at the time, but turned out positive
Moving to the south of France for six months without prior language training or familiarity with the culture. The experience taught me to rely on my instincts and operate without any guidance which helped me grow out of my comfort zone and view any challenge in life as an opportunity to thrive.
My most significant role model
My late mother who always believed in me and sacrificed a good life overseas to help me pursue my dreams in America, and my father who dedicated his entire life and career as a doctor in service of others. Both shaped who I am and remain the reason I wake up and give it 120% every day.
My favorite motto
"Be not afraid of greatness: some are born great, some achieve greatness, and some have greatness thrust upon 'em." – Twelfth Night by William Shakespeare.